$14.99
AUD
Category: Junior Readers | Series: Fish Kid Ser.
Two troubled turtles and one sinking friendship. Can Fish Kid save them all or will it end in turtle disaster? Fish Kid's third epic ocean adventure is set on a small island in the Maldives, the perfect place for Fish Kid to supercharge his fish powers. His friendship with bestie, Emely, soon hits a sna g during a tricky sea turtle rescue. Secretly wishing for powers of her own, Emely's strange behaviour leaves Fish Kid wondering if their friendship and the super-sick turtle will survive. And if things weren't bad enough, another turtle from the sanctuary goes missing. Can this super hero-in-the-making use his fishy powers to save the day? ...Show more
$14.99
AUD
Category: Junior Readers
In The Deep End, book 15 of the Diary of a Wimpy Kid series from #1 international bestselling author Jeff Kinney, Greg Heffley and his family hit the road for a cross-country camping trip, ready for the adventure of a lifetime. But things take an unexpected turn, and they find themselves stranded at an RV park that's not exactly a summertime paradise. When the skies open up and the water starts to rise, the Heffleys wonder if they can save their vacation-or if they're already in too deep. And don't miss Rowley Jefferson's Awesome Friendly Adventure, an all-new fantasy from Greg's best friend-the follow-up to the instant #1 bestseller Diary of an Awesome Friendly Kid- Rowley Jefferson's Journal.   ...Show more
$14.99
AUD
Category: Junior Readers | Series: Diary of a Wimpy Kid
An unexpected inheritance gives the Heffley family a chance to make major improvements to their home. But they soon find that construction isn't all it's cracked up to be. When things get rough, will the Heffleys be able to stay ... or will they be forced to move?  
$14.99
AUD
Category: Junior Readers
   Adventure awaits! From the imagination of Rowley Jefferson comes an adventure of epic proportions. Join Roland and his best friend, Garg the Barbarian, as they leave the safety of their village and embark on a quest to save Roland's mom from the White Warlock. Will our heroes survive? Find out in Row ley Jefferson's Awesome Friendly Adventure! ...Show more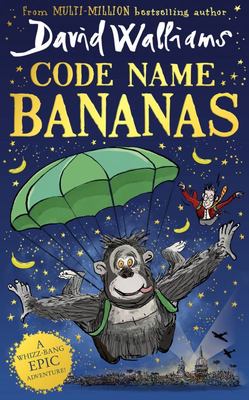 $22.99
AUD
Category: Junior Readers
1940. Britain is at war with Nazi Germany. Eleven-year-old Eric spends his days at the place that makes him most happy: London Zoo. And there's one animal in particular he loves: Gertrude the gorilla. With bombs falling all over London, Eric must rescue Gertrude. Together with his Uncle Sid, a keeper at the zoo, the three go on the run. But while hiding out at the seaside they uncover a top-secret Nazi plot… Join David Walliams on this action-packed, laugh-out-loud adventure for all the family! ...Show more
$12.99
AUD
Category: Junior Readers | Series: Nothing to See Here Hotel
Welcome to The Nothing to See Here Hotel! Book your stay now for this fabulously funny series full of mayhem, monsters and more than a little bit of magic by bestselling author Steven Butler and illustrated by Steven Lenton. Life is never dull for Frankie Banister and the weird and wonderful guests of T he Nothing to See Here Hotel - the no.1 holiday destination for magicals! But when Frankie is kidnapped and dragged off to a secret cistern-city deep in the dookiest depths of the sewers, things get a whole lot weirder! What has Frankie done to offend the mysterious 'Boss'? Is he doomed to spend the rest of his life griping in the piping? Will he ever escape the dark and disgusterous dungeons? And what exactly is the gut-gurglingly named Poodly-Pipe? One thing's for sure, Frankie is going to have to outwit old enemies and rely on new friends if he ever wants to see his HONKHUMPTIOUS home again... ...Show more
$24.99
AUD
Category: Junior Readers
Millions of young readers have loved the World's Worst Children tales and revelled in the World's Worst Teachers with their delightfully dreadful deeds – now prepare for…THE WORLD'S WORST PARENTS! From the phenomenally bestselling David Walliams and illustrated in glorious colour by the artistic genius, Tony Ross. Are you ready to meet the worst parents ever? Sure, some parents are embarrassing – but they're NOTHING on this lot. These ten tales of the world's most spectacularly silly mums and deliriously daft dads will leave you rocking with laughter. Pinch your nose for Peter Pong, the dad with the stinkiest feet in the world… jump out of the way of Harriet Hurry, the fastest mum on two wheels… watch out for Monty Monopolize, the dad who takes all his kids' toys… and, oh no, it's Supermum! Brandishing a toilet brush and a mop, she's out to save the world! With a very special introduction said to be from David's own mum, these ten tales of the most madcap mums and deliciously daft dads will leave you rocking with laughter. ...Show more
$15.99
AUD
Category: Junior Readers
There's a new kid at Shipwreck Primary! But there's also something fishy about her. Can Finn the Shark and his buddies work out who she is, and could she possibly be the answer to their problems with Blake the bully? With Great White Shark teachers, treacherous undersea races and dangerous fishermen nea rby, it's never a dull moment in this School of Fish! An hilarious new underwater graphic novel. It will have you hooked!   ...Show more
$16.99
AUD
Category: Junior Readers | Series: The Peski Kids
Potatoes and espionage collide in The Peski Kids' final mission! With a team of international super spies hunting them down, The Peski Kids' orders are simple – act normal. But for Joe, Fin, April and Loretta that mission is impossible. Tensions run high when their mum moves in and starts spotting ene my agents behind every corner in Currawong. Should The Peski Kids get out of town? Of course they should! But they're not going to. Not when there's a potato festival to celebrate. ...Show more
$17.99
AUD
Category: Junior Readers | Series: Dog Man
The next great Dog Man adventure from the worldwide bestselling author and artist Dav Pilkey. You'll howl with laughter! The Supa Buddies bamboozled the baddies, but all's not right in the world. Dog Man has a new problem to pound, and he's going to need his entire pack to help him. Will he go barking u p the wrong tree?   Dav Pilkey's wildly popular Dog Man series appeals to readers of all ages and explores universally positive themes, including empathy, kindness, persistence, and the importance of doing good.   ...Show more
$14.99
AUD
Category: Junior Readers | Series: The Treehouse
Andy and Terry have added 13 new levels to their treehouse and now it's even more out of this world than before! There's a soap bubble blaster, a GRABINATOR (it can grab anything from anywhere at any time), a time-wasting level, a toilet paper factory (because you can never have too much toilet paper), a room full of mechanical grandparents, a super long legs level, an extraterrestrial observation centre and the best bookshop-in-a-treehouse-in-a-tree-in-a-forest-in-a-book in the whole world! Well, what are you waiting for? Come on up! ...Show more
$17.99
AUD
Category: Junior Readers | Series: Dog Man
A brand-new graphic novel series by Dav Pilkey, the internationally bestselling author and illustrator of the DOG MAN and CAPTAIN UNDERPANTS series. Welcome to the Cat Kid Comic Club, where Li'l Petey (LP), Flippy, and Molly introduce twenty-one rambunctious, funny, and talented baby frogs to the art of comic making. As the story unwinds with mishaps and hilarity, readers get to see the progress, mistakes, and improvements that come with practice and persistence. Squid Kid and Katydid, Baby Frog Squad, Gorilla Cheese Sandwich, and Birds Flowers Tree: A Haiku Photo Comic are just some of the mini-comics that are included as stories-within-the-story, each done in a different style, utilizing humour and drama, prose and poetry, illustrated in different media including acrylics, pastels, coloured pencils, felt-tip markers, clay, hand-made cardboard sculptures, photographs, pipe cleaners, construction paper collages, and cookies. Readers of all ages will be inspired to dream up their own stories and unleash their own creativity as they dive into this pioneering graphic novel adventure from Dav Pilkey and his heartfelt, humorous, and amazing cast of characters in the Cat Kid Comic Club. ...Show more