$14.99
AUD
Category: Junior Readers | Series: Awesome Friendly Kid
Scare yourself silly with Rowley Jefferson's Awesome Friendly Spooky Stories by Jeff Kinney, the #1 international bestselling author of Diary of a Wimpy Kid! Grab a flashlight, crawl under the covers, and dive into the twisted, unexpectedly hilarious world of Rowley Jefferson's imagination. You'll meet zombies, vampires, ghosts, and much more in these comically terrifying tales. Rowley's spooky stories might leave you laughing, but beware-you could end up sleeping with the lights on! And don't miss Rowley Jefferson's first two awesome friendly books, the instant #1 bestsellers Diary of an Awesome Friendly Kid- Rowley Jefferson's Journal and Rowley Jefferson's Awesome Friendly Adventure! ...Show more
$14.99
AUD
Category: Junior Readers
In The Deep End, book 15 of the Diary of a Wimpy Kid series from #1 international bestselling author Jeff Kinney, Greg Heffley and his family hit the road for a cross-country camping trip, ready for the adventure of a lifetime. But things take an unexpected turn, and they find themselves stranded at an RV park that's not exactly a summertime paradise. When the skies open up and the water starts to rise, the Heffleys wonder if they can save their vacation-or if they're already in too deep. And don't miss Rowley Jefferson's Awesome Friendly Adventure, an all-new fantasy from Greg's best friend-the follow-up to the instant #1 bestseller Diary of an Awesome Friendly Kid- Rowley Jefferson's Journal.   ...Show more
$14.99
AUD
Category: Junior Readers
For readers aged 9+ comes a major new contemporary middle-grade series from award-winning author Jenny Valentine, perfect for fans of Jacqueline Wilson, Cath Howe and Lara Williamson! Meet ten-year-old Joy Applebloom, a girl with a knack for finding the silver lining in even the darkest of rainclouds. A fter years of travelling the world with her parents and older sister, Claude (Claude rhymes with bored, which is just about right), Joy and her family move to suburbia - back to school, back to her grumpy, rule-obsessed grandad and back to normality. Joy soon finds her usual irrepressible positivity and zest for life waning, but when the powers that be threaten to pull down a mighty oak tree, Joy decides to fight back, and realizes that not all magic requires wands and spells, and perhaps the most important sort of magic is the power, resilience and courage that was there all along . . . ...Show more
$17.99
AUD
Category: Junior Readers | Series: Dog Man
Dog Man and Petey face their biggest challenges yet in the tenth Dog Man book from worldwide bestselling author and illustrator Dav Pilkey.Dog Man is down on his luck, Petey confronts his not so purr-fect past, and Grampa is up to no good. The world is spinning out of control as new villains spill into town. Everything seems dark and full of despair. But hope is not lost. Can the incredible power of love save the day? Dav Pilkey's wildly popular Dog Man series appeals to readers of all ages and explores universally positive themes, including empathy, kindness, persistence, and the importance of doing good. ...Show more
$14.99
AUD
Category: Junior Readers | Series: Diary of a Wimpy Kid
An unexpected inheritance gives the Heffley family a chance to make major improvements to their home. But they soon find that construction isn't all it's cracked up to be. When things get rough, will the Heffleys be able to stay ... or will they be forced to move?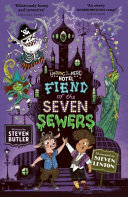 $12.99
AUD
Category: Junior Readers | Series: Nothing to See Here Hotel
Welcome to The Nothing to See Here Hotel! Book your stay now for this fabulously funny series full of mayhem, monsters and more than a little bit of magic by bestselling author Steven Butler and illustrated by Steven Lenton. Life is never dull for Frankie Banister and the weird and wonderful guests of T he Nothing to See Here Hotel - the no.1 holiday destination for magicals! But when Frankie is kidnapped and dragged off to a secret cistern-city deep in the dookiest depths of the sewers, things get a whole lot weirder! What has Frankie done to offend the mysterious 'Boss'? Is he doomed to spend the rest of his life griping in the piping? Will he ever escape the dark and disgusterous dungeons? And what exactly is the gut-gurglingly named Poodly-Pipe? One thing's for sure, Frankie is going to have to outwit old enemies and rely on new friends if he ever wants to see his HONKHUMPTIOUS home again... ...Show more
$24.99
AUD
Category: Junior Readers
Millions of young readers have loved the World's Worst Children tales and revelled in the World's Worst Teachers with their delightfully dreadful deeds – now prepare for…THE WORLD'S WORST PARENTS! From the phenomenally bestselling David Walliams and illustrated in glorious colour by the artistic genius, Tony Ross. Are you ready to meet the worst parents ever? Sure, some parents are embarrassing – but they're NOTHING on this lot. These ten tales of the world's most spectacularly silly mums and deliriously daft dads will leave you rocking with laughter. Pinch your nose for Peter Pong, the dad with the stinkiest feet in the world… jump out of the way of Harriet Hurry, the fastest mum on two wheels… watch out for Monty Monopolize, the dad who takes all his kids' toys… and, oh no, it's Supermum! Brandishing a toilet brush and a mop, she's out to save the world! With a very special introduction said to be from David's own mum, these ten tales of the most madcap mums and deliciously daft dads will leave you rocking with laughter. ...Show more
$17.99
AUD
Category: Junior Readers | Series: Jack Heath Comedies Ser.
Levi is pretty sick of starring in Dad's stupid TV show, Kid Kablam. Because Levi is the kid who gets KABLAMMED! So far he's been knocked down, blown up, and attacked by wild animals. And Dad has one more scene planned-the most dangerous stunt so far. Can Levi survive this final stunt without seriously stacking it?   ...Show more
$14.99
AUD
Category: Junior Readers | Series: Treehouse
The latest addition to Andy Griffiths and Terry Denton's internationally phenomenal Treehouse series.Andy and Terry live in the world's craziest treehouse. They like making books and telling jokes. And now they've made the world's funniest joke book. Again!From fairytale fun to classroom capers and movi e madness, there are jokes galore for the whole family. An especially perfect book for fans of the Treehouse series. Q: What did one ghost say to the other ghost? A: Do you believe in people? ...Show more
$22.99
AUD
Category: Junior Readers
From the author of the award-winning His Name was Walter comes another magical mystery story that will delight Emily Rodda fans. Buttons three, attend to me! Take me where I want to be! No one saw Eliza Vanda arrive in Tidgy Bay that rainy winter afternoon. The sign advertising 'Cabins for Rent' was al most hidden by a pile of builder's rubble, but Eliza Vanda didn't seem at all put out by the mess.'This is a nice little pocket,' she said. 'It should suit us very well. ' Life hasn't been much fun for Milly Dynes lately. There seem to be problems everywhere she looks. She's always loved her home in Tidgy Bay, but at the moment she wishes she was somewhere -anywhere - else. Then Eliza Vanda turns up-and magic comes with her ... A sparkling new fantasy adventure from multi-award-winning author Emily Rodda. AWARDS FOR HIS NAME WAS WALTER:Winner - 2019 Prime Minister's Literary Awards (Children's Literature)Winner - 2019 Australian Book Design Awards (Children's Fiction Book)Winner - 2019 CBCA Book of the Year Awards (Younger Readers)Shortlisted - 2019 Davitt Awards (Children's)Shortlisted - 2019 QLD Literary Awards (Griffith University Children's Book Award)Shortlisted - 2018 Aurealis Awards (Best Young Adult Novel)   ...Show more
$15.99
AUD
Category: Junior Readers
There's a new kid at Shipwreck Primary! But there's also something fishy about her. Can Finn the Shark and his buddies work out who she is, and could she possibly be the answer to their problems with Blake the bully? With Great White Shark teachers, treacherous undersea races and dangerous fishermen nea rby, it's never a dull moment in this School of Fish! An hilarious new underwater graphic novel. It will have you hooked!   ...Show more
$14.99
AUD
Category: Junior Readers | Series: The Treehouse
Andy and Terry have added 13 new levels to their treehouse and now it's even more out of this world than before! There's a soap bubble blaster, a GRABINATOR (it can grab anything from anywhere at any time), a time-wasting level, a toilet paper factory (because you can never have too much toilet paper), a room full of mechanical grandparents, a super long legs level, an extraterrestrial observation centre and the best bookshop-in-a-treehouse-in-a-tree-in-a-forest-in-a-book in the whole world! Well, what are you waiting for? Come on up! ...Show more