$5.99
AUD
Category: Activity/Novelty
Have fun with Bluey and Bingo as they play their favourite games! There are stickers to place, puzzles to solve and so much more. Bluey has been a phenomenal success since airing on ABC KIDS in October 2018, amassing legions of dedicated fans and taking the coveted position of being the most watched pr ogram ever on ABC iView, with over 100 million plays. It has also topped the Australian iTunes Kids Chart with the series peaking at #1 and consistently remaining in the Top 5. ...Show more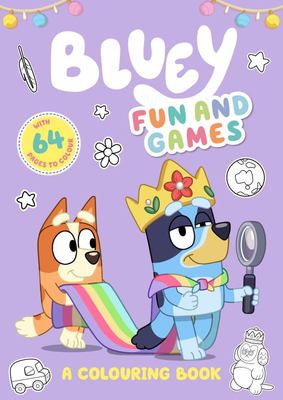 $5.99
AUD
Category: Activity/Novelty
Colour in the grannies, a game of Featherwand, a trip to Rug Island and more in this fun-filled colouring book. Bluey has been a phenomenal success since airing on ABC KIDS in October 2018, amassing legions of dedicated fans and hugely popular ranges of books, toys, clothes, games and more. It holds the coveted position of being the most watched program ever on ABC iView, with over 260 million plays for Series One, and is the winner of an International Emmy for Most Outstanding Children's Programme. ...Show more
$5.99
AUD
Category: Activity/Novelty
Colour Bluey's backyard, the creek, the playground and more in this fun-filled colouring book.Bluey has been a phenomenal success since airing on ABC KIDS in October 2018, amassing legions of dedicated fans and taking the coveted position of being the most watched program ever on ABC iView, with over 20 0 million plays. It has also topped the Australian iTunes Kids Chart with the series peaking at #1 and consistently remaining in the Top 5. ...Show more
$16.99
AUD
Category: Activity/Novelty | Series: Minecraft
Minecraft's oceans are waiting to be explored, but new dangers lurk beneath the surface of the water and survival can prove difficult for even the bravest adventurer. The official Minecraft Guide to Ocean Survival will teach you how to breathe underwater, find the ocean's valuable loot and protect yours elf from dangerous mobs. With insider info and tips from the experts at Moang, this is the definitive guide to underwater survival for aquatic adventurers. Collect all of the official Minecraft books to become the best Minecrafter you can be: Minecraft Guide to Exploration Minecraft Guide to C reative Minecraft Guide to Redstone Minecraft Guide to the Nether and the End Minecraft Guide to Enchantments and Potions Minecraft Guide to PVP Minigames Minecraft Guide to Farming Minecraft Blockopedia Minecraft: Exploded Builds: Medieval Fortress Minecraft The Survivors' Book of Secrets Minecraft Survival Tin Minecraft Mobestiary Minecraft: The Ultimate C onstruction C ollection Minecraft is a multi-platform block-based gaming sensation available on Xbox, PlayStation, PC and mobile devices. Whether you're in C reative, Survival or Hardcore Mode, the official Mojang-approved Minecraft books contain all the advice you need to survive and thrive. ...Show more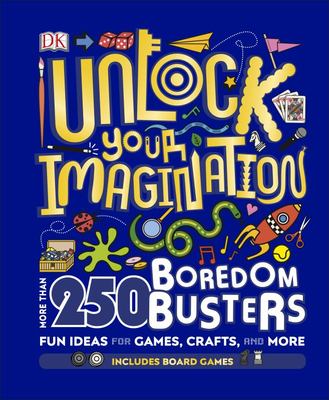 $35.00
AUD
Category: Activity/Novelty
This kids' book is packed with fun facts and rainy day activities- the perfect boredom buster for screen-free, on-the-go entertainment. Your child will be able to- - Get creative and use their imagination - make disgusting and colourful slime, create their own TV show, and run a lemonade stand. - Keep t heir hands busy with fun crafts and projects, from folding origami animals to building their own crazy golf course. - Learn games to play alone or in a group, including capture the flag, 20 questions, and hopscotch. - Train their brain with memory games and fun facts Unlock your Imaginationis packed with fun ideas. Take it wherever you go to keep bored kids busy and entertained. Whether it's a rainy day or a sunny afternoon you'll find plenty to make, play, and do. Comes with a free double-sided board, counters and a press-out dice that can be used to play chess, draughts, and snakes and ladders. ...Show more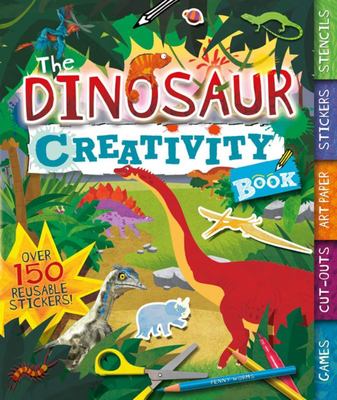 $19.99
AUD
Category: Activity/Novelty
Snip! Stick! Colour! Create! Let your imagination run riot in the ultimate activity book on dinosaurs. Build a Giganotosaurus, become a fossil hunter and make a dinosaur mobile! Packed with stickers, pull-out decorated prehistoric pages, puzzles, colouring, games, and makes to try at home, kids will be enthralled by this unbeatable activity book package. Special Items Include: ​Two sticker pages contain over 150 stickers. Dinosaur themed art paper can be pulled out and used at home. Two glossy sticker scenes are attached to the back cover meaning readers can use their stickers over and over again. ...Show more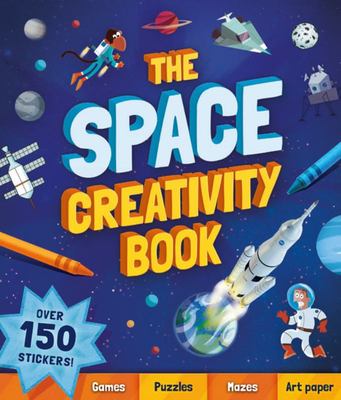 $19.99
AUD
Category: Activity/Novelty | Series: Creativity Book Ser.
Reach for the Stars in this mind-bogglingly entertaining Space Creativity Book. Perfect for all budding girl and boy space fans, this out of this world activity book is packed with puzzles, games, stickers, stencils and pullout art paper. There's plenty here to keep a whole planet of children occupied f or hours. Take Astronaut Alan's space test before entering the world of aliens, intergalactic battles and cosmic critters to see if you've got what it takes to pass out of astronaut school with flying colours. ...Show more
$29.99
AUD
Category: Activity/Novelty | Series: The\Unofficial Harry Potter Reference Library
From Harry, himself, to Sir Cadogan, the living portrait, this massive tome details every character created by J.K. Rowling and appearing in the official Harry Potter canon of books, movies and plays. Each entry will highlight one character, with some entries making up a half page, while others might ta ke up a full spread. Readers will find details of when the character was first mentioned, appearance, wizard school, house, patronus, wand, related family members, skills and achievements, personal history and more With more than 700 characters included, this book is packed from cover to cover. The book will also include genealogical charts and family trees for the major characters, world maps detailing important locations, homes and schools, as well as charts detailing alliances between characters. The content is compiled by the editors of MuggleNet.com, the world's #1 Harry Potter fan site, which has millions of followers. ...Show more
$9.99
AUD
Category: Activity/Novelty | Series: Snap Cards | Reading Level: Children's - Kindergarten, Age 5-6
Dinosaur Snap provides a new theme to this much-loved children's card game. Children will learn the names of all the dinosaurs as they match them up in this easy and fun game. These large, colourful cards make a great gift for young children.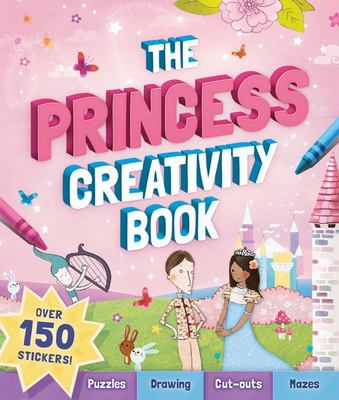 $19.99
AUD
Category: Activity/Novelty
Snip! Stick! Colour! Create! Perfect for every young prince and princess, this activity book is packed with beautiful illustrations, puzzles and games. Make a tiara, design your own royal palace and take the ultimate test! Colouring, sketching and 150 stickers make this an unbeatable activity book for r ight royal princesses. ...Show more