$24.99
AUD
Category: Death/Dying/Grief/Dementia
Sadness has come to live with me and I am building it a shelter. I am building a shelter for my sadness and welcoming it inside. A small boy creates a shelter for his sadness, a safe space where Sadness is welcome, where it can curl up small, or be as big as it can be, where it can be noisy or quiet, o r anything in between. The boy can visit the shelter whenever he needs to, every day, sometimes every hour, and the two of them will cry and talk or just sit, saying nothing. And the boy knows that one day Sadness may come out of the shelter, and together they will look out at the world, and see how beautiful it is. A poignant and heart-warming picture book exploring the importance of making space and time for our own griefs, small or large, sensitively visualized with David Litchfield's stunning illustration. Anne Booth was inspired to write this book by the words of Etty Hillesum, a Holocaust victim who wrote: 'Give your sorrow all the space and shelter in yourself that is its due, for if everyone bears grief honestly and courageously, the sorrow that now fills the world will abate. But if you do instead reserve most of the space inside you for hatred and thoughts of revenge-from which new sorrows will be born for others-then sorrow will never cease in this world. And if you have given sorrow the space it demands, then you may truly say: life is beautiful and so rich.' (Esther 'Etty' Hillesum (15 Jan 1914 - 30 Nov 1943) ...Show more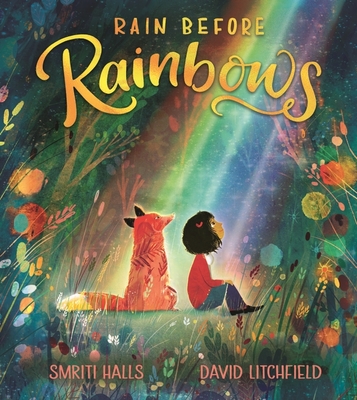 $27.99
AUD
Category: Picture Books
Rain before rainbows. Clouds before sun. Night before daybreak. A new day's begun. A girl and her companion fox travel together from a place of loss and despair, through uncertain times, towards the hope of colour, light and life. Along the way, they find friends to guide and support them. Together, the y build a glorious future and discover there is a way out of the darkness, into the light of the rainbow. A book with immense hope at its heart, this is a positive message for anyone who's ever gone through a tough time.   ...Show more
Audrey's Dad
by Jean Muthukumaraswamy
$19.95
AUD
Category: Death/Dying/Grief/Dementia
A children's book of love, grief and memories. Audrey's Dad has passed away, but sharing memories regularly keeps him and his love alive in our lives, allowing Audrey to build a powerful, invaluable connection with her Dad.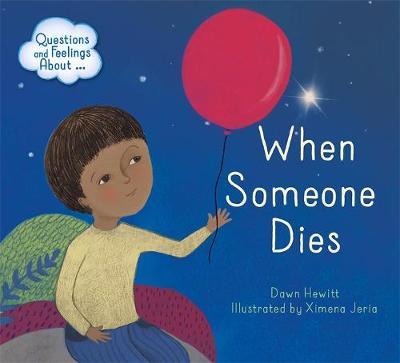 $24.99
AUD
Category: Death/Dying/Grief/Dementia | Series: Questions and Feelings About
How do you help a young child deal with death? This hands on picture book is designed to help children with their questions and feelings about tricky topics that can be hard to talk about. Written with bereavement experts CHUMS this book offers practical help, tips and advice as well as exploring everyd ay situations, supported by exquisite and approachable illustrations to give a comforting story book feel. Questions and Feelings about... is a series that tackles tough topics in a sensitive way. The books are a perfect aid to help 5-7 year old children to open up and explore how they feel and steps they can take to help them cope with emotionally challenging situations. ...Show more
$17.99
AUD
Category: Death/Dying/Grief/Dementia | Reading Level: 5-9
Have you ever wondered why a butterfly lives for only a few weeks? Or why a tree lives for hundreds of year? You may have been sad when someone in your family, or a favourite pet became sick and died. There is a beginning and an ending to everything that is alive. In between is a lifetime. Dying is a mu ch a part of living as being born. ...Show more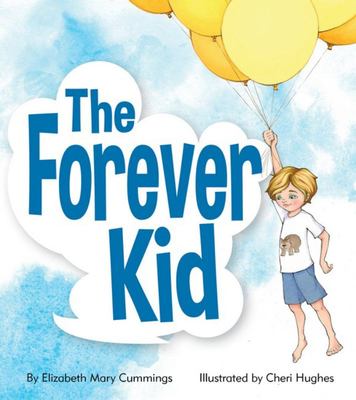 Forever Kid
by Elizabeth Mary and Hughes Cummings
$14.99
AUD
Category: Death/Dying/Grief/Dementia
The Forever Kid is a powerful picture book tackling the complex subject of grief from a child's perspective. The thoughtful, wise narrative and beautiful illustrations combine to sensitively explore the idea that loved ones are always connected even when relationships change. This story about the stre ngth of family love is gently told and tenderly illustrated. It's Johnny's birthday but he is no longer here. His family still gathers and lovingly celebrates him on his birthday. By continuing Johnny's favourite party traditions, and sharing special memories, the family feel a sense of closeness and comfort on this day of remembrance. They will always cherish Johnny, their Forever Kid. ...Show more
$15.99
AUD
Category: Death/Dying/Grief/Dementia
A beautiful and heartfelt picture book to help children celebrate the memories left behind when a loved one dies. Fox has lived a long and happy life in the forest. One day, he lies down in his favourite clearing, takes a deep breath, and falls asleep for ever. Before long, Fox's friends begin to gath er in the clearing. One by one, they tell stories of the special moments that they shared with Fox. And, as they share their memories, a tree begins to grow, becoming bigger and stronger, sheltering and protecting all the animals in the forest, just as Fox did when he was alive. This uplifting, lyrical story about the loss of a loved one is perfect for sharing and will bring comfort to both children and parents. ...Show more
$24.99
AUD
Category: Anxiety/Fears
Learn all about emotions with this friendly guide, packed with advice on how to understand your feelings. Feelings can be tricky, and My Mixed Emotions will coach you through situations including dealing with bullying, getting on with siblings, grief, relaxing, dealing with sadness, and how to cope if y our family splits up. Discover great things about yourself, and understand why you laugh when you hear a joke, why you cry when you watch a sad film, what a smile is, why the dark can be scary, why you blush when you're embarrassed, and why sometimes you can feel lots of different emotions all at once! Fun emojis will explain phobias, give you new vocabulary to describe your emotions, and show you what a special person you are. My Mixed Emotions will become your friend and guide as you travel through the mixed-up world of emotions to discover your wonderful, unique self. ...Show more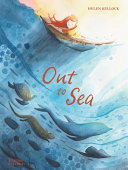 $24.99
AUD
Category: Death/Dying/Grief/Dementia
A charming and sensitivelywritten story about learning tocope with anxiety and grieffeaturing the beautiful illustrations of award-winningartist Helen Kellock. From the award-winning author of The Star in the Forest comes this heart- felt story about learning to cope with anxiety and grief. Out to Sea f ollows the journey of a young girl named Lara who is so sad after the death of her grandmother that her tears flood her room, her house, her town, and eventually sweep her out to sea. Adrift, she struggles to overcome her sadness until she discovers a pearl at the bottom of the ocean that triggers happy memories of her grandmother and the times they shared. With that pearl tucked in her pocket and the realization that she's not alone, Lara finds the strength to pick up her oars and row herself back home. Beautifully illustrated and written with sensitivity, this moving tale of social and emotional learning expresses the experience of anxiety and grief and shows readers how they might ride the waves of emotion without losing perspective. ...Show more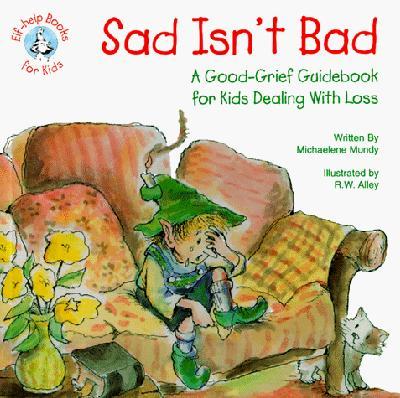 $16.95
AUD
Category: Death/Dying/Grief/Dementia | Series: Elf-Help Books for Kids | Reading Level: Children's - Grade 3-4, Age 8-9
Here is the book that Elf-help fans everywhere were asking for . . . a book to help children grieve in healthy ways. This friendly and loving guide is loaded with positive, life-affirming help to coping with loss as a child.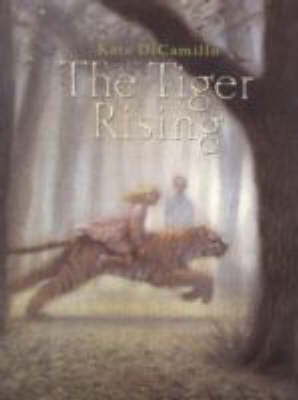 $15.95
AUD
Category: Junior Readers | Reading Level: good
"It seemed as if the tiger was a magic trick, rising out of the mist." It's six months since Rob's mum died and he moved to Florida. His dad won't talk about her at all. "Crying ain't going to bring her back," he says. So Rob fills a suitcase in his mind with all his forbidden thoughts - the rash on his legs, the bullies at school - and keeps it tight shut. But when he finds a caged tiger deep in the woods, his whole life begins to change. That same day he meets Sistine Bailey, another outsider who's bullied at school. She says they must set the tiger free - and when Rob imagines the tiger rising out of its cage, his suitcase begins to open... ...Show more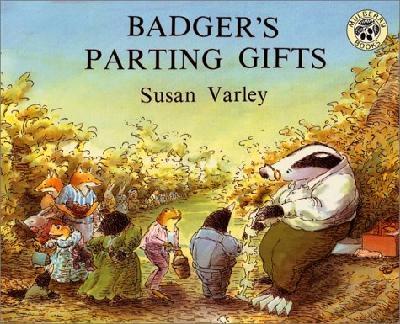 $16.95
AUD
Category: Death/Dying/Grief/Dementia
This book is about the death and life of someone very special. Badger was a friend, and almost everyone who knew him had warm and loving memories of when he was living with them. At first, those who loved Badger felt overwhelmed by their loss. In time though, whenever Badger's name was mentioned, someon e would recall something about him that made them all smile. And Badger was part of their lives once more. ...Show more