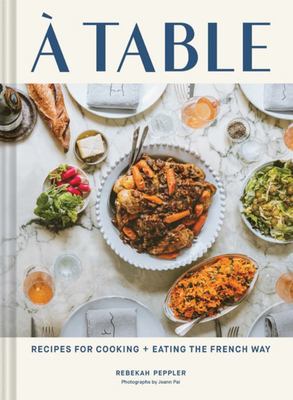 $48.00
AUD
Category: French
Mastering the Art of French Cooking meets Dinner: Changing the Game in a beautifully photographed, fresh approach to French cooking and gathering, with 125 simple recipes. Voilà! Here is an alluring, delicious invitation to the French table. At once a repertoire-building cookbook and a stylish guide to easy gathering over food and drink, À Table features 125 simple, elegant recipes that reflect a modern, multicultural French table. Paris-based American food writer Rebekah Peppler includes classics, regional specialties, and dishes with a strong international influence. Here are recipes for all the courses, from snacks to desserts, organized into before, during, and after-dinner chapters. Recipes include: Croque Madame and Crème Brûlée; Basque Chicken and Niçoise (for a Crowd); Green Shakshuka; Lamb Tagine; and Bamboo Tonic. Information on shopping and stocking your pantry, helpful tips on having people over, and stories on French food culture make this not just a recipe-driven cookbook but also a chic guide to French living. In a photo-rich package that features aspirational photography from Paris and Provence—charming apartments overlooking the rooftops of Paris, picnics along the Seine, Provencal markets overflowing with fresh produce—À Table is an inviting and accessible cookbook from a fresh voice in the food world. MAKES HIGHBROW CUISINE ACCESSIBLE: French cuisine is traditionally seen as highbrow, technical, and intimidating. This book breaks down those barriers and presents a collection of approachable recipes that reflect how French people cook at home today. With dishes that are easy to whip up on a weeknight but impressive enough to serve at a party, À Table gives you the tools you need to recreate the magic of a French evening anywhere in the world. MODERNIZES A CLASSIC SUBJECT: Classic French cookbooks no longer reflect what cooking looks like in France today. France has evolved into a diverse, multicultural melting pot-an identity that is reflected in its food. À Table modernizes the traditional perception of French cooking with a more global and representative collection of recipes. COMPELLING PACKAGE: This book is full of evocative photography of rustic French kitchens, chic Parisian apartments, charming alleyways, Provencal markets, and more. With approachable recipes, an informal tone, and aspirational photography, readers will feel as if they are traveling through France with their best friend. FRENCH IS FOREVER CHIC: French food and the French lifestyle will never go out of style. Whether in regard to hosting, cooking, fashion, beauty, or health, the French seem to have all the secrets. À Table offers a window into an enviable way of life and is filled with inspiring, useful tips—perfect for Francophiles and anyone who likes to host or cook French food. Perfect for: • Home cooks looking for accessible French recipes, relying less on fancy techniques and more on ease and accessibility • Fans of Rebecca Peppler's work, including her James-Beard Award nominated book, Mastering the Art of French Cooking meets Dining In in a beautifully photographed, fresh approach to French cooking and gathering, with 125 simple recipes. ...Show more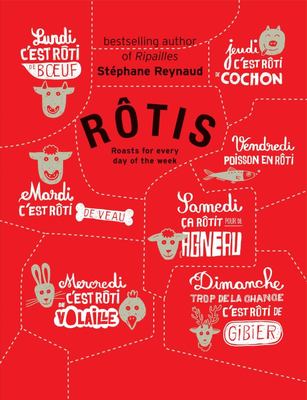 $49.95
AUD
Category: French
Every kind of roast dish, presented beautifully.
$29.99
AUD
Category: French
No Marketing Blurb
$29.99
AUD
Category: French
Voil you can live out a day eating and reveling in Paris with each turn of the page in this chic cookbook. Lunch in Paris is an instant and tantalizing transportation to the Avenue des Champs- lys es. Plus, it's quite a bit cheaper than a return ticket to France. Each chapter focuses on one of Paris's a rrondissements (neighborhoods) and is studded with dreamy location photography. With fifty simple and classic examples of French cuisine, this book proves that you need not go to Le Cordon Bleu culinary school to perfect a Pork and Pistachio Terrine. Or a Caramelized Onion- and Goat-Cheese Tartlet. Or an Olive-and-Anchovy Pissaladi re. Or a Comt -and-Asparagus Tart (among many more). With poetic and loving descriptions of each arrondissement featured, Lunch in Paris lets you bring the City of Light to your very own kitchen. Trust us: your family and friends will love you all the more for it. Bon app tit ...Show more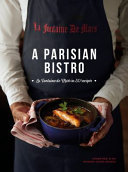 $49.99
AUD
Category: French
Explore the secrets and recipes of La Fontaine de Mars, one of the oldest bistros in Paris, and one of the most renownedWelcome to the lively atmosphere of La Fontaine de Mars, a Parisian bistro founded in 1908, nestled in the heart of the French capital. As soon as guests pass through the heavy red cur tain, they are captivated by the spirit of a place that has lovingly preserved the traces of its past. Checkered tablecloths, vintage objects, earthenware tiles, and delicious dishes in generous portions await. Here, you can discover glorious recipes, such as Cassoulet, Porcini Mushroom Pâté., and Strawberry-Pistachio Sabayon, and see the colorful history of La Fontaine de Mars unfold before your eyes. Neighborhood regulars, savvy tourists, celebrities (including Robert De Niro, who contributes a foreword, and Mick Jagger), American expatriates, and figures from the world of fashion all frequent this legendary address. ...Show more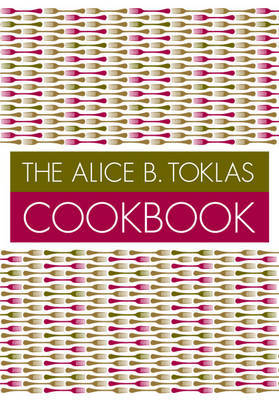 $24.95
AUD
Category: French
The recipe book for foodies, practical cooks and gossips alike. The legendary Alice B Toklas Cookbook is a collection of some of the brightest ideas for preparing delicious meals as well as a rich mine of stories about the best-known artists and writers living in mid-twentieth-century France. Here we fi nd everything from good old-fashioned salade nicoise to the intriguingly named Custard Josephine Baker, Sea Bass for Picasso and the famous recipe for Hashish Fudge. Alice B Toklas led an extraordinary life on her travels through Europe with her lover Gertrude Stein, the American writer and art collector. It is really here, in this collection of recipes gathered over 25 years, that the atmosphere of Bohemian France comes alive. ...Show more
$120.00
AUD
Category: French | Reading Level: near fine
This reference work is a cookery encyclopedia, known for its authoritative and comprehensive account of the culinary world, past and present."
$49.99
AUD
Category: French | Reading Level: 5 Cooking
Real French home cooking with all the recipes from Rick's new BBC Two series. Over fifty years ago Rick Stein first set foot in France. Now, he returns to the food and cooking he loves the most ... and makes us fall in love with French food all over again. Rick's meandering quest through the byways and back roads of rural France sees him pick up inspiration from Normandy to Provence. With characteristic passion and joie de vivre, Rick serves up incredible recipes- chicken stuffed with mushrooms and Comte, grilled bream with aioli from the Languedoc coast, a duck liver parfait bursting with flavour, and a recipe for the most perfect raspberry tart plus much, much more. Simple fare, wonderful ingredients, all perfectly assembled; Rick finds the true essence of a food so universally loved, and far easier to recreate than you think. ...Show more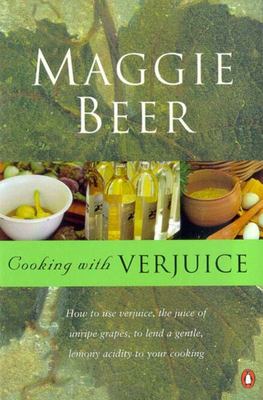 $24.95
AUD
Category: French | Reading Level: very good
Verjuice, the juice of unripe grapes, was once a staple of French provincial cooking. It lends a gentle acidity to food and is lemony but not harsh on the palate, fresh but not too tart. Its balance of acidity and sweetness make it a marvellous ingredient, particularly in sauces and dressings. Verjuice is extraordinarily versatile: you can also use it to reconstitute dried fruit or blanch vine leaves for stuffing, or reduce it to make sweet syrups to serve with desserts. Maggie Beer is renowned for her love of regional produce and for championing traditional methods. After working for years to perfect her verjuice, she now sells it commercially, and her interest in the product has encouraged other grapegrowers to produce their own versions. In "Cooking with Verjuice", Maggie reveals all you need to know about verjuice and offers many tips and recipes from her own collection and from friends and colleagues, among them Stephanie Alexander, Stefano de Pieri, George Biron and Philip Johnson. ...Show more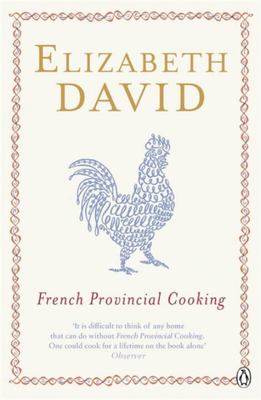 $26.95
AUD
Category: French
"French Provincial Cooking" is Elizabeth David's classic work on French regional cuisine. Providing simple recipes like omelettes, souffles, soups and salads, it also offers more complex fare such as pates, cassoulets, roasts and puddings. First published in 1960, it is readable, inspiring and entertain ingly informative. "French Provincial Cooking" by Elizabeth David is the perfect place to go for anyone wanting to bring a little France into their home. "Not only did she transform the way we cooked but she is a delight to read". ("Express on Sunday"). "Britain's most inspirational food writer". ("Independent"). "When you read Elizabeth David, you get perfect pitch. There is an understanding and evocation of flavours, colours, scents and places that lights up the page". ("Guardian"). Elizabeth David (1913-1992) is the woman who changed the face of British cooking. Having travelled widely during the Second World War, she introduced post-war Britain to the sun-drenched delights of the Mediterranean and her recipes brought new flavours and aromas into kitchens across Britain. After her classic first book "Mediterranean Food" followed more bestsellers, including "French Country Cooking", "Summer Cooking", "French Provincial Cooking", "Italian Food", "Elizabeth David's Christmas" and "At Elizabeth David's Table". ...Show more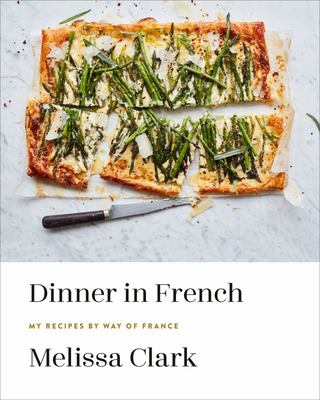 $69.99
AUD
Category: French
New York Times star food writer Melissa Clark breaks down the new French classics with 150 recipes that reflect a modern yet distinctly French sensibility.   "Melissa Clark's contemporary eye is just what the chef ordered. Her recipes are traditional yet fresh, her writing is informative yet playful, and the whole package is achingly chic."--Yotam Ottolenghi   Just as Julia Child brought French cooking to twentieth-century America, so now Melissa Clark brings French cooking into the twenty-first century. She first fell in love with France and French food as a child; her parents spent their August vacations traversing the country in search of the best meals with Melissa and her sister in tow. Near to her heart, France is where Melissa's family learned to cook and eat. And as her own culinary identity blossomed, so too did her understanding of why French food is beloved by Americans.   Now, as one of the nation's favorite cookbook authors and food writers, Melissa updates classic French techniques and dishes to reflect how we cook, shop, and eat today. With recipes such as Salade Nicoise with Haricot Vert, Cornmeal and Harissa Souffl , Scalloped Potato Gratin, Lamb Shank Cassoulet, Ratatouille Sheet-Pan Chicken, Campari Olive Oil Cake, and Apricot Tarte Tatin (to name a few), Dinner in French will quickly become a go-to resource and endure as an indispensable classic. ...Show more
Provence to Pondicherry
by Tessa Kiros; Manos Chatzikonstantis (Photographer)
$49.99
AUD
Category: French
Tessa Kiros, renowned for her exquisite food and travel books, takes us on a fascinating journey across the globe to explore French culinary influences in far-flung destinations. Her journey begins in Provence, where Tessa first fell in love with French food, and explores the Mediterranean region's link s between the indigenous ingredients, flavours, materials and traditions. She then takes the path of early French explorers, travelling to the island of Guadeloupe in the Caribbean; Vietnam in South-east Asia; Pondicherry on the Bay of Bengal, India; La Réunion, a French island in the Indian Ocean; finally returning to France and landing in Normandy, where the cuisine is so different from the South of France. In each destination, Tessa delves into the history and culinary traditions of the country (or region), discovering how French cuisine has become embroiled with local ingredients and traditions. The result is an intriguing collection of recipes that will appeal to all those with a broad interest in food and culture. ...Show more