$45.00
AUD
Category: Baking
For Natalie Paull, baking is a gift. It's also a powerful elixir of pleasure, connection, generosity and joy. In Beatrix Bakes, Natalie indulges in baking's sweetest moments with more than seventy recipes inspiring bakers of all kinds to mix and match to make recipes their own - whether it's a Lemon cur d cream crepe cake or Pecan maple cinnamon scrolls.   Sparkling with Natalie's distinct voice, and packaged with full-colour photography, illustrations and rock-solid tips for a perfect bake, Beatrix Bakes also includes 'Adaptrix' suggestions (offering ways readers might do things differently, including short cuts) and is peppered with infographics to help them follow their baking heart. Try The Cheesecake (That You Will Love The Most) with a crumb base, or a bought biscuit base, or no base, or a sponge base, or even a failed cookie base! And from there, pick a topping from sour cream, to crumb, to fruity bits. The recipes are divided across eight chapters: Doughs, pastries & crusts; Tarts, pies, a crostata & a galette; The cake list; One in the hand; Yeasted bakes; Fruit-full; Creams, custards, fillings, glazes and buttercreams; and Finishing touches.   While Natalie's creations are inspired by classics the world over, they are irreverent too, and in Beatrix Bakes she delights in showing readers that - once they get the foundations right - the truest magic will come from a willingness to play (with the insurance of her many clever ideas and back-up plans in their apron pocket!).   Beatrix Bakes will guide anyone who loves the adventure of baking to perfect their skills and break the baking mould.       ...Show more
$59.99
AUD
Category: Baking
From Portland's most acclaimed and beloved baker comes this must-have baking guide, featuring recipes for world-class breads and pizzas and a variety of schedules suited for the home baker.   There are few things more satisfying than biting into a freshly made, crispy-on-the-outside, soft-and-supple-o n-the-inside slice of perfectly baked bread. For Portland-based baker Ken Forkish, well-made bread is more than just a pleasure--it is a passion that has led him to create some of the best and most critically lauded breads and pizzas in the country.   In Flour Water Salt Yeast, Forkish translates his obsessively honed craft into scores of recipes for rustic boules and Neapolitan-style pizzas, all suited for the home baker. Forkish developed and tested all of the recipes in his home oven, and his impeccable formulas and clear instructions result in top-quality artisan breads and pizzas that stand up against those sold in the best bakeries anywhere.   Whether you're a total beginner or a serious baker, Flour Water Salt Yeast has a recipe that suits your skill level and time constraints: Start with a straight dough and have fresh bread ready by supper time, or explore pre-ferments with a bread that uses biga or poolish. If you're ready to take your baking to the next level, follow Forkish's step-by-step guide to making a levain starter with only flour and water, and be amazed by the delicious complexity of your naturally leavened bread. Pizza lovers can experiment with a variety of doughs and sauces to create the perfect pie using either a pizza stone or a cast-iron skillet.   Flour Water Salt Yeast is more than just a collection of recipes for amazing bread and pizza--it offers a complete baking education, with a thorough yet accessible explanation of the tools and techniques that set artisan bread apart. Featuring a tutorial on baker's percentages, advice for manipulating ingredients ratios to create custom doughs, tips for adapting bread baking schedules to fit your day-to-day life, and an entire chapter that demystifies the levain-making process, Flour Water Salt Yeast is an indispensable resource for bakers who want to make their daily bread exceptional bread. ...Show more
$49.99
AUD
Category: Baking
After the huge worldwide success of her first book, Magnolia Kitchen, Bets Gee brings us the spectacular Magnolia Kitchen Design focusing on the design elements of her incredible cakes.
$49.99
AUD
Category: Baking
The irrepressible, unstoppable women of the Monday Morning Cooking Club are back, with the very best, most delicious sweet recipes curated and perfected from Jewish homes across Australia and the world. 'We are always dreaming of soft, airy, pale chiffon cake, thinking about chocolate-swirled, glossy ye asted bake, imagining flaky chewy  jammy strudel, baking almond-studded citrus-glazed Dutch buns, frying golden syrup-drenched coiled fishuelas, biting into hot sugared jam-filled doughnuts, eating crisp-shelled marshmallowy vanilla-flecked meringues, feasting on sticky steaming sweet butterscotch pudding and sharing it all with abundance and love...' The Monday Morning Cooking Club have been on a mission: to uncover, curate, honour and celebrate the very best, treasured, and most delicious sweet recipes from the Jewish community in Australia and from around the world. Alongside these precious recipes, they tell heart-warming and poignant stories of survival, loss, love, family and community. ...Show more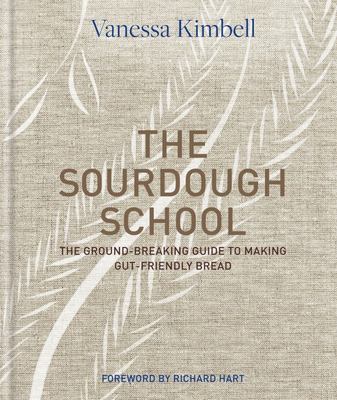 $49.99
AUD
Category: Baking
'Master the art of sourdough with Vanessa and you will learn how to look after your own gut microbes and health.' - Tim Spector, author of The Diet Myth At her renowned Sourdough School, Vanessa has taught countless students the secrets of this healthy, more easily digestible bread, and now she has com piled her teachings for the home baker. From creating your own starter from scratch, you'll then move on to basic breadmaking techniques, before progressing to using sprouted grains and experimenting with flavours to produce Fig and Earl Grey and Cherry Plum loaves. With step-by-step photography, detailed instructions, specialist advice and Vanessa's indispensable encouragement, The Sourdough School celebrates the timeless craft of artisan baking. ...Show more
$24.99
AUD
Category: Baking
Who knew the humble pie maker would become a social media phenomenon! Embracing the trend that's taken Australia by storm, this book celebrates all things pastry pies as well as a host of clever creations you'd never expect. You'll love these inspired recipes for mac and cheese bites, muffins, scones, b acon and eggs, fritters, pancakes and so much more. All quick and easy to make, they take no time at all to cook - perfect for the whole family. ...Show more
$59.99
AUD
Category: Baking
A luscious celebration of baking for life, love and happiness Flour and Stone is a petite bakery in inner-city Sydney with a large and devoted following for its panna cotta lamingtons, flaky croissants, chewy cookies, dreamy cakes and delectable pastries of every kind. Nadine Ingram and her dedicated team bake with finesse and love to bring pleasure to the city. In this book Nadine shares her signature recipes, all carefully explained and rigorously tested for the home kitchen. Family, in every sense, is at the heart of Flour and Stone -- this recipe collection is given in the hope that you will nurture your own loved ones with the timeless, comforting art of baking. These are the treats you'll want to eat for the rest of your life. 'Beautiful recipes written by a master baker with care, skill, and that intangible 'something' that makes me want to bake every single cake and pastry.' Belinda Jeffery ...Show more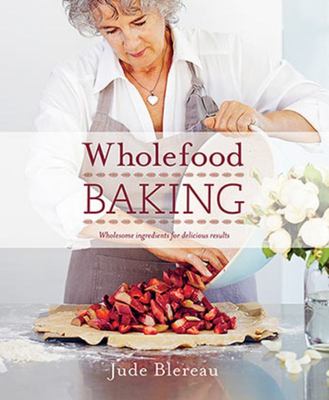 $39.99
AUD
Category: Baking
Jude's Blereau's Wholefood Baking includes more than 120 tried and true recipes for cakes, scones, biscuits and pastries as well as delectable creams, icings and jams, many of which are gluten-, nut- and dairy-free and use whole and semi-refined flours and sugars.Together with advice on how to convert y our favourite recipes using whole ingredients, Wholefood Baking is a must for those who want their baked goods to heal, nourish and delight. ...Show more
$75.00
AUD
Category: Baking | Series: Tartine Ser.
This is the follow-up to successful Tartine, concentrating on the bakery's legendary bread, from one of the most celebrated breadmakers in the United States. Chad is Jesus in breadmaking circles, and Tartine's bread is celebrated in media. Serious breadmakers will want this book for their collection. L overs of Tartine will want Tartine Bread. A master formula for basic bread with many variations forms the backbone of the book, which also includes yeasted breads and recipes for sweet and savory foods made with days-old bread. Chad's mastery of breadmaking and work with great artisanal bakers in the US and France, as well as his philosophy of baking, are features of this book. ...Show more
$34.99
AUD
Category: Baking
A loaf of bread means different things to different people. It's at once the centrepiece of the family table, it's the source of the demon gluten, the reassuring heft of an artisan sourdough, or the fluffy comfort of a white sandwich loaf - it's the best thing since... well, sliced bread. This is NOT a book about how to make bread. No kneading, no rising, no baking. Loaf Story is a food book about bread - not just the role it plays in people's lives all over the world, buthow it has been adapted and used in so many dishes. It is food of poverty and yet now we routinely pay big money for an artisanal loaf. Why does it have such a hold on us? From the British and American white sliced loaf to the French baguette, Scandinavian rye, and the uber-trendy Japanese katsu sando, the cultural significance of the loaf is manifold. With recipes for 60 dishes that can be made on bread, in bread and with bread, including a look at the myriad uses for breadcrumbs, croutons, andhollowed-out loaves, as well as the hallowed doorstep sandwich and a classic BLT, Loaf Story is a heart-warming celebration of the staff of life. ...Show more
$49.99
AUD
Category: Baking
'It is impossible to read this book without wanting to scuttle off into the kitchen.' Nigella Lawson The Sourdough School: Sweet Baking is an indispensible guide to exploring the techniques and ingredients involved in successful sweet sourdough baking. A companion to the bestselling The Sourdough School , it focuses on sweet recipes that are gut-friendly and rely on natural sweetness where possible. Classic recipes and new ideas for flavour combinations offer bakers an alternative method of baking cakes, tarts, biscuits, doughnuts, brioche, pretzels - nothing is off limits. If it rises, it can be made with sourdough. Also featured are recipes for compotes and syrups to accompany your bakes. Vanessa also explains how sourdough helps to maintain the health and diversity of your gut microbiome, which in turn improves mental health. New studies are unveiling links between the microorganisms in our gut and our mood and behaviour, and Vanessa is at the forefront of this research. 'Britain's queen of sourdough.' - Telegraph 'Vanessa Kimbell wants to change the bread we eat, one loaf at a time. She's the real deal: a total inspiration.' - Diana Henry 'Just five years ago if someone said to you that they were writing a book about sourdough bread and mental health you would have thought they needed psychiatric help. Today nobody is laughing as the latest science tells us that microbes are the key link between food and the health of our mind and bodies.' - Tim Spector, author of The Diet Myth ...Show more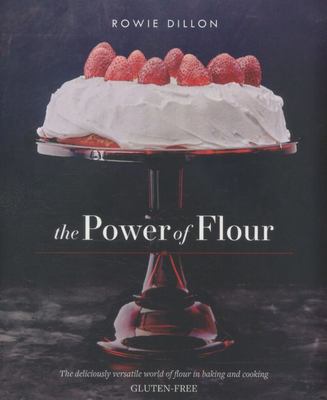 $35.00
AUD
Category: Baking
Is it possible for naughty tasting cakes and desserts to be good for you? Well, it is now. The Power of Flour is the new must have book for anyone wanting to experience the deliciousness of cake while maintaining a gluten, wheat and yeast free diet and lifestyle. The product ingredients are carefully se lected and all suppliers have the same high accreditations as she does. Rowie uses flours made from Aztec grains such as Quinoa and Amaranth as well as tapioca, potato and wheat-free corn flours, all stone- milled to her specifications. She combines these flours with oil, vinegar or coconut to create egg replacement. ...Show more