$24.99
AUD
Category: Biographies & Memoir | Series: That's a Job? Ser.
Do you love animals and dream of working with them when you grow up? If the answer is yes, then this book is for you! In this entertaining and informative book, children who love animals can find out all about the future careers they can choose from.   From being a zoo vet, a police dog handler, a marin e biologist, a guide dog trainer, to a pet photographer and many more, this book will take you through a day in the life of 25 animal workers, showing you how each job unfolds on a typical working day. You'll learn what it takes to get the job, what duties and tasks are involved, and discover a world of opportunities. Turn the pages and find out the best part of a pet vet's day and what really bugs an entomologist... HINT: it involves insects flying up their nose!   With a variety of careers covered, from jobs in science, the police, charity and many more, this book is sure to inspire children's ambitions and get them excited for their futures. Aimed at animal loving readers aged 7 and older the illustrated narrative approach tells the story of each career and helps introduce children to the world of work in a playful, engaging way.   When they've finished reading, children will have gained an overview of each of the featured jobs and will have discovered that you can turn a passion, an interest or a hobby into a rewarding career. If readers want to know more about the opportunities ahead they can check out That's a Job? I Like Sport, or That's a Job? I Like being Outdoors and discover even more of the world's coolest jobs. ...Show more
$19.99
AUD
Category: Biographies & Memoir | Series: Little People, Big Dreams
New in the critically acclaimed Little People, BIG DREAMS series, discover the amazing life of Jane Goodall, the world's foremost expert on chimpanzees. When Jane was little, her father gave her a toy chimpanzee named Jubilee. This inspired her lifelong love of animals, and she went to study them in th e wild as soon as she could. Jane lived with chimpanzees in their natural habitat and became famous for her pioneering approach to research. She now educates the public on animal rights. This moving book features stylish illustrations and extra facts at the back, including a biographical timeline with historical photos and a detailed profile of the primatologist's life. Little People, BIG DREAMS is a best-selling series of books and educational games that explore the lives of outstanding people, from designers and artists to scientists and activists. All of them achieved incredible things, yet each began life as a child with a dream. This empowering series offers inspiring messages to children of all ages, in a range of formats. The board books are told in simple sentences, perfect for reading aloud to babies and toddlers. The hardcover versions present expanded stories for beginning readers. Boxed gift sets allow you to collect a selection of the books by theme. Paper dolls, learning cards, matching games, and other fun learning tools provide even more ways to make the lives of these role models accessible to children. Inspire the next generation of outstanding people who will change the world with Little People, BIG DREAMS! ...Show more
$24.99
AUD
Category: Biographies & Memoir | Series: That's a Job? Ser.
That's a Job? I Like Sport is the perfect guide for children who love sports and want to know all about what careers they could have.
$19.99
AUD
Category: Biography & Memoir | Series: Little People, Big Dreams
What is your big dream? Will you be a singer, a runner, an artist, a scientist, an activist--or something else? Explore all this and more in this beautifully illustrated guided journal and keepsake, from the creators of the critically acclaimed, multimillion-copy best-selling Little People, BIG DREAMS s eries. "Every great dream begins with a dreamer" --Harriet Tubman With quotes from the inspirational characters from the series and confidence-boosting activities, now you can put your own dreams to paper. Explore what makes you you and what you aspire to accomplish with drawing completion projects, fill-in-the-blank exercises, brainstorming prompts, and more. When you're done, you'll have a record of all your amazing strengths and step-by-step plans to live out your dreams! Little People, BIG DREAMS is a best-selling series of books and educational games that explore the lives of outstanding people, from designers and artists to scientists and activists. All of them achieved incredible things, yet each began life as a child with a dream. This empowering series offers inspiring messages to children of all ages, in a range of formats. The board books are told in simple sentences, perfect for reading aloud to babies and toddlers. The hardcover versions present expanded stories for beginning readers. Boxed gift sets allow you to collect a selection of the books by theme. Paper dolls, learning cards, matching games, and other fun learning tools provide even more ways to make the lives of these role models accessible to children. Inspire the next generation of outstanding people who will change the world with Little People, BIG DREAMS! ...Show more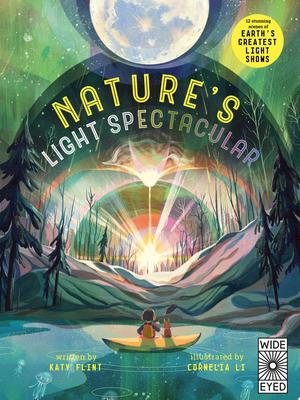 $24.99
AUD
Category: Animals & Natural World | Series: Glow in the Dark
Lightning Rainbows Auroras Discover Earth's most amazing natural phenomena in this adventure around the globe, including a glow-in-the-dark poster. ? Follow two intrepid explorers as they witness the Northern Lights, marvel in wonder at glow worm caves, go hunting for double rainbows, and dodge volcanic lightning. A perfect book for young explorers. Turn off the light to see the ? ? 640 296 mm ? tear-out poster ? glow, featuring the stages of a solar eclipse. ? (Be sure to charge it in the light first.) ? Each spread features an enchanting illustration of a different natural phenomenon ? animated by a description of the science behind it, told in exciting prose. ? Fact boxes call out more information. ? Some of the wonderful things you'll see: Volcanic Lightning Meteor Showers Double Rainbows Sun Dogs Glowworm Caves Super Blood Moon Light pillars Auroras Poster: Solar eclipse ...Show more
$27.99
AUD
Category: Non-fiction
What is justice? What is freedom? What is bias? ... And who gets to have big ideas?  Studies show that children ask caregivers 300 questions a day during meals, trips to the market, and before bedtime. This book teaches children to think critically and discuss ideas in a world that needs bright young t hinkers. Jamia Wilson expertly explores the difficult questions kids may ask by relating them to real-life examples and introducing a diverse range of thinkers and luminaries. Drawing on influences from ancient Greeks right up to modern-day American writers, the idea of philosophy - and who gets to have big ideas - is reimagined.  Choose a question or page to explore and discuss at a time. Relate to the real-life experiences, explore big ideas from a range of thinkers, and decide where you stand on the issue at hand. For example, try to recall your earliest memory. Can you remember a lot or a little? Do memories make us who we are? Or do we pick and choose them to suit who we are? This is a multi-layered book to be explored again and again.  Extra info in the book includes a manifesto for talking about difficult topics and managing disagreements, a glossary of terms, a timeline of key thinkers, and an index of themes.  Chapters are organised into five sections: Identity, Life, Truth, Culture, and Creativity. Questions include: Who am I?  What is race? What is gender? What happens when we die? What is right and wrong? What is bias? What is freedom? What is justice? What is memory? A mind-expanding book to challenge young thinkers, which reimagines philosophy for ages 9 and up.    ...Show more
$19.99
AUD
Category: Gardening, environment, sustainability | Series: Lonely Planet Kids
Look around you - plastic is everywhere! It's in your shoes, pens, toothbrush, car, toys, TV, water bottles, food packaging... It's so popular that it's almost impossible to get through one day without using it. And it's creating major problems for our planet, wildlife and ourselves. With The Plastic Pr oblem, you'll discover loads of brilliant and easy ways to cut plastic out of your life! By becoming a 'plastic patroller' instead of a plastic polluter, your actions will help protect our world, and inspire friends and family to do the same. Inside this practical guide, the follow-up to our popular 101 Small Ways to Save the World, you'll find out how to: Pack a zero waste travel kit to help your family reduce its rubbish on trips Take better care of your clothes, swap items with friends, and get excited about hand-me-downs Switch your toothpaste for natural tooth powders and choose an electric, non-throwaway toothbrush Take your lunch to school in a reusable container and bring reusable cutlery Reduce the amount of things you buy, reuse what you have, and recycle what you no longer need Take reusable bags to the supermarket or with you when you go shopping Today is the perfect time for a change. As a future guardian of the planet, you can say no to plastic. Your actions, however small, can make a big difference every day. And with each change, you'll help our oceans become a little cleaner and our planet a little healthier. Are you up to the challenge? The contents of The Plastic Problem include: Plastic, plastic everywhere- What is plastic, where does it come from, and why do we use it? The problems with plastic- Why are we still using plastic and what are the reasons we need to stop? Take action!- Learn how to avoid plastic, start making smarter choices and make a real difference Become a 'Precycler' - Choose what's better for the environment instead of what's more convenient About Lonely Planet Kids:Lonely Planet Kids - an imprint of the world's leading travel authority Lonely Planet - published its first book in 2011. Over the past 45 years, Lonely Planet has grown a dedicated global community of travellers, many of whom are now sharing a passion for exploration with their children. Lonely Planet Kids educates and encourages young readers at home and in school to learn about the world with engaging books on culture, sociology, geography, nature, history, space and more. We want to inspire the next generation of global citizens and help kids and their parents to approach life in a way that makes every day an adventure. Come explore! ...Show more
$19.99
AUD
Category: Biographies & Memoir | Series: Little People, Big Dreams
In this book from the critically acclaimed, multimillion-copy best-selling Little People, BIG DREAMS series, discover the life of Jean-Michel Basquiat, the graffiti street art movement pioneer. Jean-Michel was born in Brooklyn, New York, to a Puerto Rican mother and Haitian father. When he was eight and recovering from an accident in bed, his mother gave him a copy of Gray's Anatomy, which sparked his interest in the human form. As a teenager, he gained recognition as part of the graffito duo SAMO that spray-painted cryptic messages and images around the landscape of Manhattan's Lower East Side. He eventually made his way to the New York gallery scene and on to international acclaim. This moving book features stylish and quirky illustrations and extra facts at the back, including a biographical timeline with historical photos and a detailed profile of the brilliant artist's life. Little People, BIG DREAMS is a best-selling series of books and educational games that explore the lives of outstanding people, from designers and artists to scientists and activists. All of them achieved incredible things, yet each began life as a child with a dream. This empowering series offers inspiring messages to children of all ages. ...Show more
$19.99
AUD
Category: Biographies & Memoir | Series: Little People, Big Dreams
Part of the critically acclaimed Little People, BIG DREAMS series, Greta Thunberg tells the inspiring true story of the environmental activist.  When young Greta learned of the climate crisis she stopped talking. She couldn't understand why people in power were not doing anything to save our Earth. One day she started striking from school in her 'School Strike for Climate'. Soon, lots more young people joined her in a global movement that shook adults and politicians alike. She had found her voice and uses it to inspire humans to action with her powerful message: "No one is too small to make a difference." This inspiring book features stylish and quirky illustrations and extra facts at the back, including a biographical timeline with historical photos and a detailed profile of the architect's life. Little People, BIG DREAMS is a bestselling series of books and educational games that explore the lives of outstanding people, from designers and artists to scientists and activists. All of them achieved incredible things, yet each began life as a child with a dream. Inspire the next generation of outstanding people who will change the world with Little People, BIG DREAMS! ...Show more
Items per page:
1 - 9 of 9