$35.00
AUD
Category: Sociology
How to be an older woman? Who knows. Being a young woman can be challenging. But it turns out not even a fraction of the bullshit has happened to you by the time you turn thirty. Because your thirties, forties and beyond see you dealing with Real Life, the stuff you never thought would happen to you- gr ey hair; bereavement; hangovers that last for days; having sex with the same person for years and years and still saying 'thank you afterwards'; balancing career with motherhood - or not - and dealing with your ageing parents. If anything, it gets worse. But you get more amazing. Ten years after the modern classic How to Be a Woman redefined modern feminism, Caitlin Moran explores the art of becoming an older woman. Singing the praises of their no-nonsense wisdom and their almost supernatural ability to simply get shit done, More Than A Woman is a joyous celebration of mothers, daughters, female friendship and life beyond your thirties. ...Show more
$24.99
AUD
Category: Sociology | Reading Level: near fine
#1 New York Times Bestseller From a renowned historian comes a groundbreaking narrative of humanity's creation and evolution--a #1 international bestseller--that explores the ways in which biology and history have defined us and enhanced our understanding of what it means to be "human." One hundred thou sand years ago, at least six different species of humans inhabited Earth. Yet today there is only one--homo sapiens. What happened to the others? And what may happen to us? Most books about the history of humanity pursue either a historical or a biological approach, but Dr. Yuval Noah Harari breaks the mold with this highly original book that begins about 70,000 years ago with the appearance of modern cognition. From examining the role evolving humans have played in the global ecosystem to charting the rise of empires, Sapiens integrates history and science to reconsider accepted narratives, connect past developments with contemporary concerns, and examine specific events within the context of larger ideas. Dr. Harari also compels us to look ahead, because over the last few decades humans have begun to bend laws of natural selection that have governed life for the past four billion years. We are acquiring the ability to design not only the world around us, but also ourselves. Where is this leading us, and what do we want to become? Featuring 27 photographs, 6 maps, and 25 illustrations/diagrams, this provocative and insightful work is sure to spark debate and is essential reading for aficionados of Jared Diamond, James Gleick, Matt Ridley, Robert Wright, and Sharon Moalem. ...Show more
$32.99
AUD
Category: Sociology
Friends are good for your health. The strength of your social relationships is a remarkably good predictor of how long you will live. Strong social connections also make communities more resilient, efficient and satisfying. But today Australians have fewer close friends and local connections than in the past, and more of us say we have no-one to turn to in tough times. In Reconnected, Andrew Leigh and Nick Terrell look at how we can turn this trend around. Organisations such as parkrun and Greening Australia are mobilising thousands of people to stay fit and improve their local neighbourhoods. Technology is providing new ways to raise funds and to volunteer. And from the popular 'No Lights No Lycra' dance nights to the atheist 'Sunday Assembly' movement, Australians are finding new ways to connect in the twenty-first century. With optimism and intelligence, Leigh and Terrell show what works and what doesn't when it comes to community-building, and introduce us to some remarkable and inspirational people. Reconnected is an essential guide to for anyone interested in strengthening social ties. ...Show more
$35.00
AUD
Category: Sociology
'Feisty and inquisitive - a fresh take on modern feminist issues.' Julia GillardAustralian women are suffering from a crisis of confidence about work. Accustomed to being overlooked and undervalued, even when women do get to the top, they explain their success away as 'luck'. But it's not.Not Just Lucky exposes the structural and cultural disadvantages that rob women of their confidence - often without them even realising it. Drawing on case studies, detailed research and her own experience in politics and media, Jamila Rizvi is the warm, witty and wise friend you've been waiting for. She'll give you everything you need to start fighting for your own success and for a more inclusive, equal workplace for all. (She'll also bring the red wine.)This unashamedly feminist career manifesto is for women who worry they'll look greedy if they ask for more money. It's for women who dream big but dread the tough conversations. It's for women who get nervous, stressed and worried, and seem to overthink just about everything.It will help you realise that you're not just lucky. You're brilliant.'Gentle, intelligent, meaningful and uncomfortably true career advice, and a huge high-five to sisterhood. Read it.' Zoe Foster Blake'Funny, insightful and affirming, this book will have you fist pumping the air.' Clementine Ford ...Show more
$24.99
AUD
Category: Sociology
Women around the globe are being called to change the world through a new kind of leadership - but to do this, we must be clear in purpose, reconnected to our 'womanity' and strengthened in our capacity as high-level influencers. Women in leadership is a big topic these days, and for good reason. But i t isn't enough to simply invite women into senior positions if the system itself never changes-different people doing more of the same is not real change. Instead, what we need is a new breed of influencehers to transform the system and disrupt the status quo. InfluenceHer offers the framework that is needed for women to harness their spiritual intelligence and radically transform business as a phenomenal force for good. Dion Johnson, the Womanologist, shares the five commitments that every woman influencer should follow to lead with heart and achieve big results. Readers will- feel empowered to rise above the adversity of patriarchal structures and become influencehers learn unique ways to inspire change from a place of faith and authenticity remaster their innate abilities for divine feminine disruption transition from a victim position to change-makers in business Written for the woman who is too busy, too stressed, under too much pressure; who feels too small to dismantle the patriarchal systems; who has already quit, either by bowing to the status quo or by quitting her job, InfluenceHer is the spark that will ignite a spiritual revolution that has the power to change the way we lead and do business. ...Show more
$19.99
AUD
Category: Sociology | Series: First Knowledges Ser.
'Let this series begin the discussion.' - Bruce Pascoe 'An act of intellectual reconciliation.' - Lynette Russell.  Songlines are an archive for powerful knowledges that ensured Australia's many Indigenous cultures flourished for over 60,000 years. Much more than a navigational path in the cartographic sense, these vast and robust stores of information are encoded through song, story, dance, art and ceremony, rather than simply recorded in writing. Weaving deeply personal storytelling with extensive research on mnemonics, Songlines offers unique insights into Indigenous traditional knowledges, how they apply today and how they could help all peoples thrive into the future. This book invites readers to understand a remarkable way for storing knowledge in memory by adapting song, art, and most importantly, Country, into their lives.  About the series:The First Knowedges books are co-authored by Indigenous and non-Indigenous writers; the series is edited by Margo Neale, senior Indigenous curator at the National Museum of Australia.  ...Show more
$24.99
AUD
Category: Sociology
An extraordinarily powerful and personal meditation on race, culture, and identity. When Stan Grant was born in Australia in 1963, the national census classed him and his family among the country's flora and fauna. As Aboriginal Australians, their history and culture had been suppressed for centuries. A legacy of racism stood between him and the opportunities that white Australia - the so-called Lucky County - seemed awash with. But Grant was lucky enough to find an escape route through education. Finding early inspiration in the writing of James Baldwin and fellow indigenous activists at the Australian National University, on completing his studies he went on to become one of the country's leading journalists. As a correspondent for CNN he travelled extensively, covering conflicts in the Middle East, Africa, and Asia. Struck by how common humanity can live on in the face of repression and mass destruction - from North Korea to Pakistan to Baghdad - the lives of individuals he met spoke to him of sacrifice, endurance, and the undying call of family and homeland. And in the stories of other dispossessed peoples, he saw that of his own.  In Talking To My Country, Grant draws on his own life and community to respond to the ongoing racism that he sees around him. He writes with passion and striking candour of the sorrow, shame, anger, and hardship of being an indigenous man. Forthright and unblinking, Stan reaches beyond his own heritage to show how the effects of colonialism and racism are everyday realities that still shape our world, and how we should never grow complacent in the fight to overcome them.  ...Show more
$32.99
AUD
Category: Sociology
We're more connected, yet lonelier than ever - practical ways to combat the alarming rise of loneliness by bestselling author and social researcher, Maggie Hamilton. Practical solutions to combat social isolation in our families and communities.  
$22.99
AUD
Category: Sociology
Personal and fearless - a call to arms for feminists new, old and as yet unrealised by one of our most outspoken feminist writers.
$25.00
AUD
Category: Sociology
In 2008, Marcus Westbury returned to his hometown of Newcastle, Australia and found more than 150 empty buildings lining its two main streets. Three years later the world's largest travel publisher, Lonely Planet, named it one of the Top Ten cities to visit in the world. Creating Cities is about th e unlikely events in between. How a failed idea to start a bar morphed into a scheme that has helped transform Newcastle, launched more than two hundred creative and community projects across Australia and is fast becoming a model for cities and towns around the world. In an engaging, thoughtful and observational style, Marcus Westbury argues that most towns and cities are wasting their most obvious opportunities: the talent, imagination, and passion of the people that live there. In a globalised age, local creativity has access to new possibilities that most places have barely begun to grasp. Marcus weaves a local story of how identifying and fixing small scale failures in Newcastle into a larger set of ideas and "why-to" strategy with potential applications in cities and towns around the world. Creating Cities is an inspiring must read for creative people, civic and business leaders, town planners, citizens and anyone who cares about the communities that they live in. ...Show more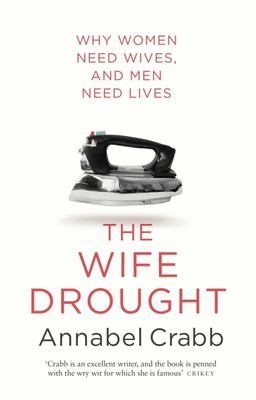 $22.99
AUD
Category: Sociology
For decades, feminism has argued the case for getting women into the workplace. Affirmative action, support schemes, paid maternity leave... all valuable devices, and yet still we agonize over why women aren't better represented in the boardrooms and ministries of this country. But the answer is so shri ekingly obvious, and yet hardly anybody ever acknowledges it. It's because for women, the opportunity to work at those elite levels usually means opting out of having a family. Either that, or working like a lunatic whilst being plagued by personal guilt on one hand and the covert critique of other mothers on the other. The greatest asset male executives, politicians, and sportspeople have enjoyed throughout centuries of success is one that never appears on balance sheets or tax returns. And yet this asset keeps their lives turning over more efficiently than an accommodating accountant or the most obliging of personal assistants. And it is: The Wife. "Why can't I have a wife?" It's a common joke among busy women. But it's not a joke. Male politicians who reach their 40s without having children are so rare as to be remarkable, but politics is full of women who are childless. Why? Because if you want to combine kids with an elite career, the first thing you need (if you're going to have the best possible shot at it) is a stay-at-home spouse. And it's awfully hard to interest a bloke in a gig like that. This book is not a shout of rage, but it is asking us to sit up and listen. Sometimes as women we spend too much time thinking about flexibility from only one perspective--ours. But what about the men? Shouldn't the fight for workplace flexibility extend to men as well? And then perhaps it wouldn't be seen as such an anomaly to see a man in a part-time role so he can spend more time with the kids? Clich but true: kids need their fathers, too. This book is full of stories from the author's work in and around politics and media, and involves anecdotes about high-profile women--and men. It will look at some research about flexibility in the workplace; it will look at statistics about childlessness and correlation to financial success for women and men. It will include some embarrassing disclosures about things Annabel Crabb has done to make life work in a busy career with three children. It will look at what happens to men who pitch in and take responsibility for their children. It will seek out some blokes who have made the decision to do more at home, and it will love them up pretty concertedly. It will contain some advice about how to build your own artificial wife, using trained partners, child care, friends, and family. This is a shout-out to men and women everywhere to take control. ...Show more
$12.99
AUD
Category: Sociology | Series: Popular Penguins Ser. | Reading Level: very good
Alain de Botton has performed a stunning feat: he has transformed arcane philosophy into something accessible and entertaining, useful and kind. Drawing on the work of six of the world's most brilliant thinkers, de Botton has arranged a panoply of wisdom to guide us through our most common problems. Fro m the frustration of misplacing your keys to the sadness of losing a loved one, the writings of Seneca can offer consolation. For the agony of not having enough money, Epicurus has a solution that everyone can afford. If your life is beset by difficulty after difficulty, wise advice may be found in the words of Nietzsche. The Consolations of Philosophy is smart, lucid, and pleasing, a rare sort of book that wonderfully fulfills the promise of its title. ...Show more