Includes mind body spirit.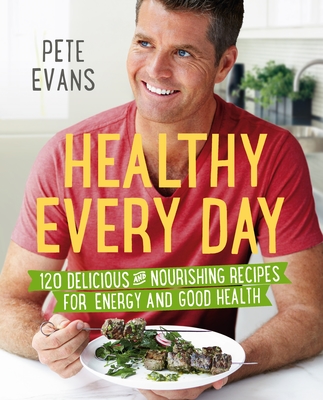 $39.99
AUD
Category: Wholefood
Australia's favourite celebrity chef and host of My Kitchen Rules, Pete Evans, loves nothing more than to nourish his body with fresh, healthy food. Food that not only tastes delicious, but also leaves you feeling great by providing all of the most important nutrients and avoiding empty carbs and bad fa ts. In Healthy Every Day, Pete shares all of his favourite recipes for good health and vitality. Inspired by a 'paleo' way of eating, these are the meals he cooks for his family every day, and they feature loads of fresh veggies, nuts and seeds, sustainable seafood and meat. There are no recipes for potato chips in here, but you will find one for crispy Kale Chips that will satisfy you and give you a hit of iron, calcium and antioxidants at the same time. And instead of the usual fatty and non-nutritious burger and fries, there's a Burger with the Lot that is full of flavour but won't leave you feeling bloated and sluggish. These recipes also draw on Pete's love of international cuisine, with inspiration from Thailand, Fiji, Turkey, Vietnam and Morocco. He shows you how to make lighter, healthier, but just as tasty versions of your favourite curries, salads and skewers. Pete has also been inspired by the fermented food of Korea and Japan, and there is chapter that shows you how to create your own Kimchi and other delicious fermented dishes, like Summer Kraut with Pineapple and Mint. And while you won't find any sugar in this book, there are still some delicious gluten- and dairy-free treats, such as Young Coconut Ice Cream and Raspberry Mousse Cheesecake. With Healthy Every Day, Pete makes it easy to change the way you cook and eat. This book will inspire you to cook and eat real food that will make you feel (and look!) fantastic. ...Show more
$29.99
AUD
Category: Health, Well Being & Psychology
A practical and humorous guide that takes the worst thing about being a woman and turns it into the best thing, by 'period preacher', cult folk singer and former sex education teacher.
$34.99
AUD
Category: Dieting & Fitness | Reading Level: near fine
From the bestselling author of The Mediterranean Diet and The Mediterranean Diet Cookbook, Australia's leading expert on the Mediterranean diet shows us how to improve our heart health. Heart disease is the single leading cause of death in Australia. Every one of us either has or knows someone who has a common risk factor of heart disease, such as high cholesterol or high blood pressure.Diet is a key factor in preventing and reducing the risk factors of heart disease. Scientifically backed by decades of peer-reviewed research, the Mediterranean diet is a rigorously tested diet that has been proven to prevent heart disease and diabetes, help with weight management, and promote longevity. Dr Catherine Itsiopoulos provides 80 delicious recipes, easy-to-follow meal plans and clear advice on why the Mediterranean diet is the #1 diet recommended by cardiologists around the world.Sustainable, satisfying and suitable for the whole family, this is a diet that is a proven pathway to better heart health as much as it promotes long-term good health and wellbeing. ...Show more
$35.00
AUD
Category: Dieting & Fitness
Two-week meal plan and 100 recipes that use ingredients with anti-inflammatory properties, helping you reduce chronic inflammation and boost immunity.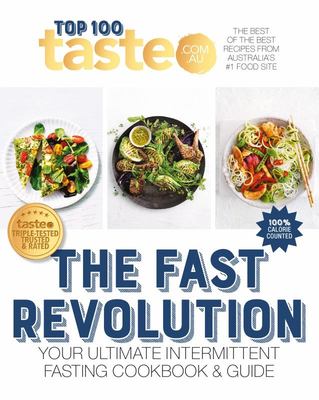 $34.99
AUD
Category: Dieting & Fitness | Series: Taste Top 100 Ser.
RECIPES & MENU PLANS FOR 800-CALORIE DAYS, 250-CALORIE LIGHT MEALS, 125-CALORIE SNACKS AND MORE Losing weight has never been so easy, so sustainable, or tasted so good. The Fast Revolution makes the entire process not just doable, but also fun. This is intermittent fasting without the fuss. Expertl y curated by taste.com.au's food and nutrition teams, The Fast Revolution is packed with more than 100 quick and easy healthy recipes all made with fresh ingredients. The Fast 800 and 5:2 Diets have been international sensations, educating us with the latest science around the long-term health and weight-loss benefits of intermittent fasting. Now, Australia's number-one, most loved and trusted food brand, taste.com.au, brings you The Fast Revolution, an inspiring cookbook where intermittent fasting meets real life, with innovative meal plans, delicious recipes, and calorie guides, plus tips and tricks you need to stay on track. The Fast Revolution is designed for everyone - no matter who you are, no matter your size, gender, exercise level or your dietary preferences. The Fast Revolution delivers recipes and planning tools to maximise the benefits of intermittent fasting to help you hit your magic 800-calorie target. The Fast Revolution also brings you closer to enjoying all the scientifically proven benefits of intermittent fasting - from delayed ageing, to reduced risk of a huge range of chronic diseases such as cancer, diabetes and heart disease. Vive la Revolution! ...Show more
$34.99
AUD
Category: Health, Well Being & Psychology
The follow up to James Smith's international number one bestseller, Not a Diet Book. * Do you love your job? * Does your future excite you? * Are your relationships working for you?   James Smith is back to challenge everything you thought you knew about the path to fulfilment and happiness. With h ard-hitting home truths and a helping of tough love, be prepared to re-set your outlook, redefine your goals and truly consider:   What does SUCCESS truly mean to you? ...Show more
$32.99
AUD
Category: Dieting & Fitness
The answer to all questions about ageing and nutrition. When science journalist Bas Kast collapsed with chest pains when he was only 40, he was faced with an existential question: had he ruined his health with junk food? He decided to radically change his eating habits in order to heal himself. But what is really good for you? This was the beginning of a journey of discovery into the latest research into ageing and nutrition -- and it lasted several years. What do people with a particularly long life span eat? How can you lose weight efficiently? Are afflictions typical of old age avoidable? Can you 'eat yourself young' with certain foods? Much of what we think is healthy can even be harmful. Bas Kast has filtered out from thousands of sometimes contradictory studies scientifically founded findings about what really makes for healthy eating. ...Show more
$29.99
AUD
Category: Dieting & Fitness | Reading Level: very good
THE ULTIMATE GUIDE TO FASTING, WEIGHT LOSS AND LONG-TERM GOODHEALTH THE CULMINATION OF DR MOSLEY'S BESTSELLING DIETING TRILOGY FEATURES REVELATORY NEW SCIENCE WITH A HIGHER 800-CALORIE LIMIT   Six years ago, Dr Michael Mosley started a health revolution with The 5.2 Fast Diet, telling the world about th e incredible power of intermittent fasting. In this book he brings together all the latest science (including a new approach: Time Restricted Eating) to create an easy-to-follow programme. Recent studies have shown that 800 calories is the magic number when it comes to successful dieting – it's an amount high enough to be manageable but low enough to speed weight loss and trigger a range of desirable metabolic changes. Depending on your goals, you can choose how intensively you want to do the programme: how many 800-calorie days to include each week, and how to adjust these as you progress. Along with delicious, low-carb recipes and menu plans by Dr Clare Bailey, The Fast 800 offers a flexible way to help you lose weight, improve mood and reduce blood pressure, inflammation and blood sugars. Take your future health into your own hands. ...Show more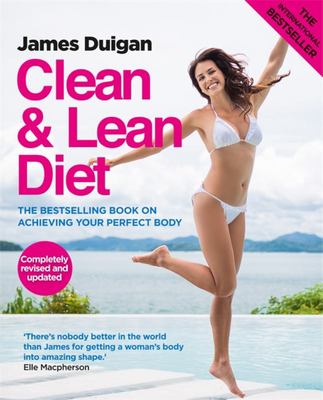 $29.99
AUD
Category: Dieting & Fitness | Series: Clean & Lean
Completely revised edition of the original bestselling book with: * new cover and design throughout * entirely new recipes and recipe photography * new foreword by Elle Macpherson * updated and expanded Bad, Better & Best columns * new contributions from James' celebrity clients Divided into two sec tions, it explains first how to get 'Clean' by detoxing, and then how to get 'Lean' by honing your body through a combination of diet and maximum-impact exercises that are accompanied by step-by-step photography. With flexible meal plans, recipes, tips on avoiding the cravings that can lead you off track, advice on avoiding the toxic foods and drinks that prevent us losing weight and keeping it off, plus a maintenance plan that shows you how to maintain your new healthy lifestyle, James demonstrates that you, too, can be clean and lean for life. ...Show more
$24.99
AUD
Category: Dieting & Fitness
The companion guide to the groundbreaking #1 bestselling The Fast Diet, with 150 delicious and nutritious, low-calorie recipes - illustrated in full colour throughout.
$22.99
AUD
Category: Dieting & Fitness
Put an end to dieting and replace weight loss struggles with this easy approach to a healthy, plant-based lifestyle, from the bestselling author of How Not to Die. Every month seems to bring a trendy new diet or a new fad to try in order to lose weight - but these diets aren't making us any happier or healthier. As obesity rates and associated disease and impairments continue to rise, it's time for a different approach. How Not to Diet is a treasure trove of buried data and cutting-edge dietary research that Dr Michael Greger has translated into accessible, actionable advice with exciting tools and tricks that will help you to safely lose weight and eliminate unwanted body fat - for good. Dr Greger, renowned nutrition expert, physician, and founder of nutritionfacts.org, explores the many causes of obesity - from our genes to the portions on our plate to other environmental factors - and the many consequences, from diabetes to cancer to mental health issues. From there, Dr Greger breaks down a variety of approaches to weight loss, honing in on the optimal criteria that enable success, including: a diet high in fibre and water, a diet low in fat, salt, and sugar, and diet full of anti-inflammatory foods. How Not to Diet then goes beyond food to explore the many other weight loss accelerators available to us in our body's systems, revealing how plant-based meals can be eaten at specific times to maximize our bodies' natural fat-burning activities. Dr Greger provides a clear plan not only for the ultimate weight loss diet, but also the approach we must take to unlock its greatest efficacy. ...Show more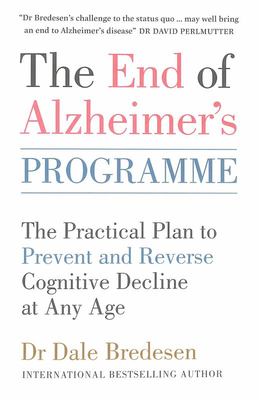 $35.00
AUD
Category: Health, Well Being & Psychology
The scientifically-proven practical plan to help reverse Alzheimer's and prevent cognitive decline from the international bestselling author of The End of Alzheimer's. Following his ground-breaking book that transformed how we think about Alzheimer's and its treatment, world-renowned neurology expert Da le Bredesen provides an unprecedented hands-on guide to achieving complete brain health. In The End of Alzheimer's Programme, he lays out step-by-step his highly sought after, scientifically-proven method that you can follow on your own or with a healthcare professional to stop Alzheimer's in its tracks. Alzheimer's Disease is a protective response to an array of factors that directly affect the brain, such as inflammation, genetic inheritance, nutrients and hormones. In this book, Bredesen will show you which of these factors you need to address to enhance your cognitive abilities by laying out a personalised lifestyle plan. Covering sleep, exercise, diet, brain training and more, Bredesen will show you how to retain, regain and maximise cognitive function for any ability and for any age with extraordinary results. Based on cutting-edge research and full of inspiring success stories from Bredesen's patients, this book is a must-read for anyone looking to enhance their brainpower and is a vital guide for carers and healthcare professionals. ...Show more