We have a huge classics section. Please check it out under Fiction - Classics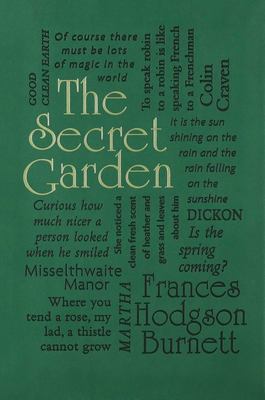 $29.99
AUD
Category: Classics
The classic children's story, now available in a new package   A classic piece of children's literature first published as a novel in 1911, Frances Hodgson Burnett's The Secret Garden is a story of transformation and renewal. Unwanted by her parents, Mary Lennox, a spoiled, selfish young girl is raise d in India by servants. When cholera breaks out killing her parents and most of the servants, Mary is sent to live with a mostly absent uncle in England. It seems as though no one cares for Mary, and that Mary will never care for anyone--until she steps into the secret garden, and her life begins to change.     Now available in this Canterbury Classics edition with a special heat-burnished cover, foil stamping, and designed endpapers, this hopeful and beautiful novel is the perfect gift for every child--and every adult who remembers that first moment when he or she began to finally grow up.     About the Word Cloud Classics series:   Classic works of literature with a clean, modern aesthetic Perfect for both old and new literature fans, the Word Cloud Classics series from Canterbury Classics provides a chic and inexpensive introduction to timeless tales. With a higher production value, including heat burnished covers and foil stamping, these eye-catching, easy-to-hold editions are the perfect gift for students and fans of literature everywhere. ...Show more
$18.99
AUD
Category: Classics | Reading Level: very good
Ray Bradbury's internationally acclaimed novel Fahrenheit 451 is a masterwork of twentieth-century literature set in a bleak, dystopian future. Guy Montag is a fireman. In his world, where television rules and literature is on the brink of extinction, firemen start fires rather than put them out. His jo b is to destroy the most illegal of commodities, the printed book, along with the houses in which they are hidden. Montag never questions the destruction and ruin his actions produce, returning each day to his bland life and wife, Mildred, who spends all day with her television "family." But then he meets an eccentric young neighbor, Clarisse, who introduces him to a past where people didn't live in fear and to a present where one sees the world through the ideas in books instead of the mindless chatter of television. When Mildred attempts suicide and Clarisse suddenly disappears, Montag begins to question everything he has ever known. He starts hiding books in his home, and when his pilfering is discovered, the fireman has to run for his life. ...Show more
$12.99
AUD
Category: Classics
Renowned urban artist Shepard Fairey's new look for Orwell's timeless satire'All animals are equal. But some animals are more equal than others.'Mr Jones of Manor Farm is so lazy and drunken that one day he forgets to feed his livestock. The ensuing rebellion under the leadership of the pigs Napoleon an d Snowball leads to the animals taking over the farm. Vowing to eliminate the terrible inequities of the farmyard, the renamed Animal Farm is organised to benefit all who walk on four legs. But as time passes, the ideals of the rebellion are corrupted, then forgotten. And something new and unexpected emerges. . . Animal Farm- the history of a revolution that went wrong - is George Orwell's brilliant satire on the corrupting influence of power. ...Show more
$35.00
AUD
Category: Classics | Series: His Dark Materials
"Northern Lights introduces Lyra, an orphan, who lives in a parallel universe in which science, theology and magic are entwined. Lyra s search for a kidnapped friend uncovers a sinister plot involving stolen children and turns into a quest to understand a mysterious phenomenon called Dust. In The Subtle Knife she is joined on her journey by Will, a boy who possesses a knife that can cut windows between worlds. As Lyra learns the truth about her parents and her prophesied destiny, the two young people are caught up in a war against celestial powers that ranges across many worlds and leads to a thrilling conclusion in The Amber Spyglass. he epic story Pullman tells is not only a spellbinding adventure featuring armoured polar bears, magical devices, witches and daemons, it is also an audacious and profound re-imagining of Milton s Paradise Lost. An utterly entrancing blend of metaphysical speculation and bravura storytelling, HIS DARK MATERIALS is a monumental and enduring achievement." ...Show more
$12.99
AUD
Category: Classics | Series: Popular Penguins Ser.
First published in 1947, The Plague was an immediate best-seller, striking a powerful chord with readers who were struggling to understand the fascist 'plague' that had just overwhelmed Europe. Seventy years later, author and director Neil Bartlett has adapted Camus' classic for our own dangerous times. Using just five actors, his frank and gripping new stage version uses Camus' original words to put chaos under the microscope and to find hope in the power of our common humanity. ...Show more
$14.99
AUD
Category: Classics
A book which speaks directly to the confusions and agonies of existence, detailing a personal, philosophical odyssey.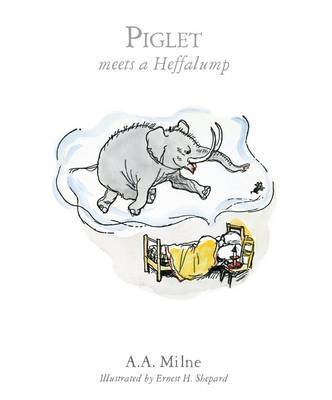 $9.95
AUD
Category: Classics
What is a Heffalump? Is it fierce? Is it fond of Pigs at all? Piglet bravely searches for the answers to these questions, and gets a big surprise.
$39.99
AUD
Category: Classics
Lewis Carroll's beloved classic stories are reimagined in this deluxe illustrated gift edition from the award-winning design studio behind the graphics for the Harry Potter film franchise, MinaLima—designed with stunning full color artwork and several interactive features.Originally published in 1865, L ewis Carroll's exquisite Alice's Adventures in Wonderland & Through the Looking-Glass have remained revered classics for generations. The story of Alice, an inquisitive heroine who falls through a rabbit hole and into a whimsical world, has captured the hearts of readers of all ages. Perhaps the most popular female character in English literature, Alice is accompanied on her journey of trials and tribulations by the frantic White Rabbit, the demented and terrifying Queen of Hearts, the intriguing Mad Hatter, and many other eccentric characters. Lewis Carroll's beloved companion stories Alice's Adventures in Wonderland and Through the Looking Glass are reinvented on one volume by the talented design firm MinaLima, whose fey drawings of some of Western literature's most famous characters will delight and enthrall, In addition, they have created interactive features exclusive to this edition, including: Alice with extendable legs and arms The rabbit's house which opens to reveal a giant Alice The Cheshire cat with a pull tab that removes the cat and leaves the cat's grin A flamingo croquet club that swings to hit the hedgehog A removable map of the Looking Glass world This keepsake illustrated edition—the sixth book in Harper Design's series of illustrated children's classics—will be treasured by for years to come. ...Show more
Brave New World
by Aldous Huxley; Margaret Atwood (Introduction by)
$14.99
AUD
Category: Classics
Brave New World is a novel written in 1931 by Aldous Huxley and published in 1932. Set in London of AD 2540 (632 A.F. - "After Ford" - in the book), the novel anticipates developments in reproductive technology, sleep-learning, psychological manipulation, and operant conditioning that combine to profoun dly change society. ...Show more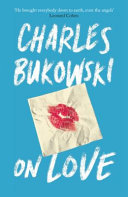 On Love
by Charles Bukowski
$19.99
AUD
Category: Classics
In On Love, we see Charles Bukowski reckoning with the complications of love and desire. Alternating between the tough and the tender, the romantic and the gritty, Bukowski exposes the myriad faces of love in the poems collected here - its selfishness and its narcissism, its randomness, its mystery and its misery, and, ultimately, its true joyfulness, endurance and redemptive power. Whether writing about his daughter, his lover, or his work, Bukowski is fiercely honest and reflective, using love as a prism to look at the world and to view his own vulnerable place in it. ...Show more
$29.99
AUD
Category: Classics | Series: Word Cloud Classics Ser.
Designed to appeal to the book lover, the Macmillan Collector's Library is a series of beautifully bound pocket-sized gift editions of much loved classic titles. Bound in real cloth, printed on high quality paper, and featuring ribbon markers and gilt edges, Macmillan Collector's Library are books to lo ve and treasure. When Alice tumbles down a rabbit hole one summer afternoon in pursuit of a White Rabbit, she finds herself in Wonderland. And here begin the adventures that have made Alice the stuff of legend and ensured that Lewis Carroll's book is the best loved and most widely read in children's literature. Illustrated in black and white by Sir John Tenniel, with an Afterword by Anna South. ...Show more
Love in a Cold Climate
by Nancy Mitford; Alan Cumming (Introduction by)
$22.99
AUD
Category: Feel Good Fiction
A sparkling romantic comedy that vividly evokes the lost glamour of aristocratic life in England between the wars.   Polly Hampton has long been groomed for the perfect marriage by her mother, the fearsome and ambitious Lady Montdore. But Polly, with her stunning good looks and impeccable connections, is bored by the monotony of her glittering debut season in London. Having just come from India, where her father served as Viceroy, she claims to have hoped that society in a colder climate would be less obsessed with love affairs. The apparently aloof and indifferent Polly has a long-held secret, however, one that leads to the shattering of her mother's dreams and her own disinheritance. When an elderly duke begins pursuing the disgraced Polly and a callow potential heir curries favor with her parents, nothing goes as expected, but in the end all find happiness in their own unconventional ways.   Featuring an introduction by Flora Fraser. ...Show more