$22.99
AUD
Category: Colouring/Drawing
Get lost in your creativity with 365 Days of Drawing, a thoughtful and inspiring art journal designed to help you carve out moments of self-expression. Lorna shows you that drawing does not have to be scary - it can be done with any materials, in any color, in any style and can be done anywhere.   Eac h activity has been given a loose category: imagination, tutorial, relaxation, color theory, and observational, so that you can practice a broad range of drawing skills. Each 'theme' is designed to expand your creative skills and spark the artist within. With helpful prompts and pages that encourage you to try new materials to draw with, 365 Days of Drawing is guaranteed to stir your imagination and put a little creativity into every single day. ...Show more
$19.99
AUD
Category: Art
Pocket Art features100 art activities to do on your daily art work-out. Bringing creativity into daily life, Lorna Scobie encourages you to react to the present, and to live more in the moment through simple, observational-based art activities. Through creative prompts and quick-sketches – which you can then use to develop bigger, more detailed artworks at home – activities will incorporate mindfulness, gratitude, skill-building and enjoyment, acting as a daily check-in for inspiration and creative play. Designed to be drawn into the book, and providing you with the friendly encouragement you need to explore your creativity and record your experiences, Pocket Art will build your confidence as an artist and is the perfect spring-board to create your very own sketch book. 100 art activities to do whenever and wherever inspiration strikes. ...Show more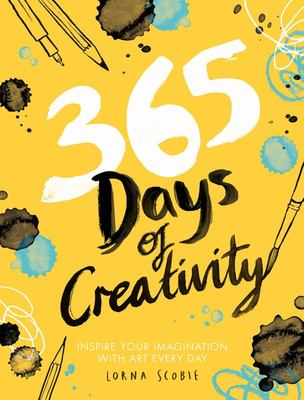 $22.99
AUD
Category: Art
365 Days of Creativity is a thoughtful and inspiring book designed to help you carve out moments of self-expression and unlock your creative potential. Lorna Scobie shows you how to experiment, explore and let go of your artistic inhibitions, encouraging you to look for creative inspiration wherever you go.   Featuring creative daily exercises and goal-setting as well as plenty of supportive prompts and tips, this fun and inspiring book will stir your imagination to put a little creativity into every day. ...Show more
$39.99
AUD
Category: Colouring/Drawing
The long-awaited follow-up to the beloved bestseller Drawing on the Right Side of the Brain - with new insights about creativity and our unique way of seeing the world around us
$19.99
AUD
Category: Colouring/Drawing | Series: Millie Marotta Ser.
Go into the woods with Millie Marotta The New York Times bestselling artist has created a stunning coloring book filled with forest-dwelling creatures.   In the sixth installment of her wildly popular coloring book series, Millie Marotta takes us through the woodlands of the world. More than 90 intricat e drawings of beautiful forest-dwelling creatures will delight colorists and spark their creativity. Millie's enticing flora and fauna include an adorable napping fox, little owl, Japanese pygmy woodpecker, peacock, badger, and polecat, along with whimsical ginkgo leaves, blossoming flowers, and tropical seeds and fruits that spill invitingly across the pages. ...Show more

$49.95
AUD
Category: Australian art
Art Me Gallery invites you to fall in love with the amazingly talented Australian artists that grace our country. No matter what medium you prefer, there are an abundance of Australian artists to admire. Whether your love of art is for Australian landscapes, urban/industrial, abstract, portraiture, deco rative or controversial, we feature Australian artists who have created beautiful works for you to enjoy. Discover a plethora of Amazing Australian Artists showcased in the pages of this book. ...Show more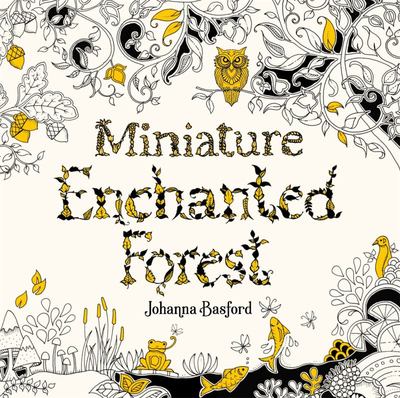 $14.99
AUD
Category: Colouring/Drawing
From the author of the global bestseller Secret Garden (over 12 million copies sold ) Discover a whole new way to color with this small-scale, pocket-sized edition of Johanna Basford's bestseller Enchanted Forest. Sharpen your pencils for this mini inky adventure created in beautifully detailed, intrica te pen-and-ink illustration, all ready for you to bring to life with color. Printed on ivory paper with lay-flat binding allowing for a smooth and seamless colouring experience. It also features two brand-new illustrations. ...Show more
$19.99
AUD
Category: Colouring/Drawing
This stunning new colouring book by Johanna Basford takes readers on a inky quest through an enchanted forest to discover what lies in the castle at its heart. As well as drawings to complete, colour and embellish, there are hidden objects to be found along the way including wild flowers, animals and bi rds, gems, lanterns, keys and treasure chests. Beginning at the entrance to the forest, the journey progresses through woodland, rocky caves and tree-lined mazes, over streams and a waterfall, across the trees tops, to finally reach the castle. Also hidden throughout the book are nine symbols. Readers must find all the symbols to unlock the castle door at the end of the quest and discover what lies within. PAGE COLOUR MAY VARY SLIGHTLY. This title is printed using paper from more than one source. This means that, while paper quality and thickness is consistent from copy to copy, page colour may vary; for example one copy of this book may have pages that are a slightly deeper cream colour than another copy. ...Show more
$22.99
AUD
Category: Art
365 Days of Art is an inspiring journal designed to help readers and budding artists nurture their creativity and explore their feelings through the medium of art. Featuring an activity for every day of the year, from simple tasks like drawing shapes and lines to more considered tutorials such as callig raphy writing and shading, each task is designed to expand your creative skills and spark the artist within.  ...Show more
$29.99
AUD
Category: Famous artists
The bird king, the anthropologists, the thing in the bathroom, the paraffin-oil koala, the secret birthday party...what do they all have in common? Nothing! Except for the fact that they all come from the sketchbooks of Shaun Tan, acclaimed creator of The Lost Thing, the Arrival and Tales from Outer Sub urbia. Also selected by the artist are preliminary drawings for book, film and theatre projects, portrait and landscape studies, along with pages from travelling notebooks. All off a special insight into the daydreams of a celebrated author an illustrator. REVIEWS of SHAUN TAN "visual eloquence" The New York Times "This may be the most beautiful book you'll see all year." The Guardian "His unique ability to capture the heart and soul of a story through images more than proves the truth of the adage that a picture is worth a thousand words." Sydney Morning Herald SELLING POINTS * Never before published work from this extremely popular author/illustrator * Collectible book for artists, graphics students and others among Shaun's large, worldwide fan base * Suitable for use in primary and secondary art ...Show more
$24.99
AUD
Category: Painting | Series: Read This Ser.
Painting isn't as hard as it looks. And it's fun. Whether you're a total beginner or have been painting for years, this indispensable guide cuts through the jargon and provides clear, practical advice and tips to help develop your skills. Techniques and ideas are described and explained, inspiring you t o make your own great paintings. Addressing the fundamentals of painting with watercolour, oil and acrylic, the book encourages you to explore the limitless possibilities painting has to offer. Read This if You Want to Be Great at Painting is an accessible and jargon-free guide to painting, including watercolour, oil and acrylic. The book includes more than 40 examples of great paintings by masters and contemporary artists and simple diagrams and practical activities help you practice each technique. ...Show more