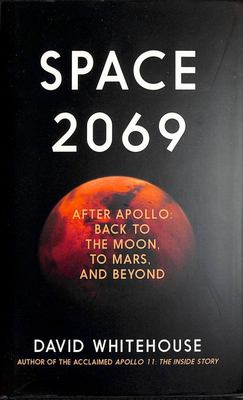 $34.99
AUD
Category: Science
Half a century after Apollo 11 we have still not returned to the Moon, but that is about to change. The thirteenth person to walk on the Moon could soon be part of a crew establishing a base on the lip of a crater at the lunar south pole.The discovery of ice in the eternal shadows of the polar regions t ransforms our ability to live on the Moon. From bases on the Moon we can make the long, lonely and dangerous voyage to Mars, where there is also ice. The obstacles are many, not least the fragilities of the human body. And what type of world would the first Mars explorers find?Science journalist David Whitehouse - with his 'reporter's gift for uncomplicated storytelling' (Financial Times) - presents a mind-expanding tour of humanity's future in space over the next 50 years. ...Show more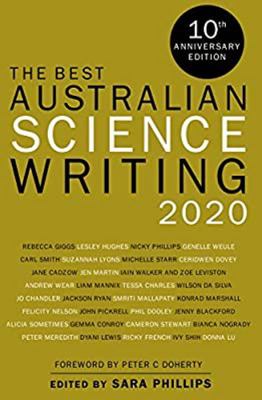 $32.99
AUD
Category: Science
The annual collection – now in its tenth year – celebrating the finest voices in Australian science writing.Can fish feel pain? Does it matter if a dingo is different from a dog? Is there life in a glob of subterranean snot? Science tackles some unexpected questions. At a time when the world is buffeted by the effects of a pandemic, climate change and accelerating technology, the fruits of scientific labour and enquiry have never been more in demand. Who better to navigate us through these unprecedented days than Australia's best science writers.Now in its tenth year, this much-loved anthology selects the most riveting, entertaining, poignant and fascinating science stories and essays from Australian writers, poets and scientists. In their expert hands such ordinary objects as milk and sticky tape become imbued with new meaning, while the furthest reaches of our universe are made more familiar and comprehensible.With a foreword from Nobel laureate and immunologist Peter C Doherty, this collection brings fresh perspective to the world you thought you knew. ...Show more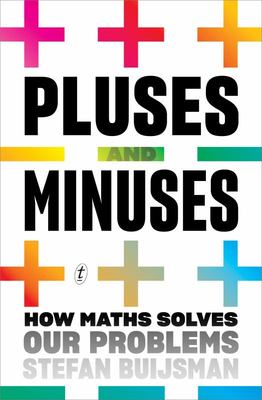 $32.99
AUD
Category: Science
You look up from your phone for a moment to order an espresso. It's made with one of those large stainless-steel coffee makers that heats the water until it's precisely the right temperature. It keeps track of how fast the water warms up and uses that to calculate whether it needs to apply more or less heat, until the perfect temperature is attained. You're not aware of any of it, but right in front of your nose those formulae that your maths teacher talked about are being used to make your cup of coffee. Thousands of years ago, the inhabitants of Mesopotamia became the first humans to use numbers. Since then, mathematics has become an unstoppable force. It's behind almost everything, from search engines to cruise control, from coffee-makers to timetables. But now that we hardly ever need to do arithmetic, how relevant is mathematics to everyday life? Drawing on examples within the interconnected fields of philosophy, psychology and history, Dr Stefan Buijsman explores the role mathematics plays in the modern world. Stefan Buijsman gained a master's degree in philosophy in Leiden at the age of eighteen. He then moved to Sweden, where he gained his doctorate within eighteen months, making him one of the youngest ever PhDs. He is currently studying the philosophy of mathematics as a post-doctoral researcher. ...Show more
$32.99
AUD
Category: Science
In her bestselling book The Memory Code Lynne Kelly uncovers the memory methods of the ancients. She has now tested them thoroughly and in Memory Craft she shows how anyone of any age can use traditional memory methods to expand their memory capacity and to memorise whatever they want.
$24.99
AUD
Category: Science
THE MILLION COPY BESTSELLER Sapiens shows us where we came from. Homo Deus shows us where we're going. Yuval Noah Harari envisions a near future in which we face a new set of challenges. Homo Deus explores the projects, dreams and nightmares that will shape the twenty-first century and beyond - from o vercoming death to creating artificial life. It asks the fundamental questions: how can we protect this fragile world from our own destructive power? And what does our future hold? 'Homo Deus will shock you. It will entertain you. It will make you think in ways you had not thought before' Daniel Kahneman ...Show more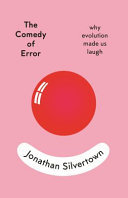 $29.99
AUD
Category: Science
What is humour? Why do we laugh? And why is the root of a good joke almost always error? Good jokes, bad jokes, clever jokes, dad jokes -- the desire to laugh is universal. But why do we find some gags hilarious, whilst others fall flat? Why does explaining a joke make it less amusing rather than more s o? Why is laughter contagious, and why did it evolve in the first place? Using the oldest jokes and the latest science, in The Comedy of Error, Professor Jonathan Silvertown investigates why we laugh: from laughter's evolutionary origins, to similarities and differences in humour across cultures, and even why being funny makes us sexier. As this unique book demonstrates, understanding how humour really works can provide endless entertainment. ...Show more
$22.99
AUD
Category: Science
Randall Munroe is . . .'Nerd royalty' Ben Goldacre 'Totally brilliant' Tim Harford 'Laugh-out-loud funny' Bill Gates 'Wonderful' Neil Gaiman AN INSTANT #1 NEW YORK TIMES BESTSELLER For any task you might want to do, there's a right way, a wrong way, and a way so monumentally bad that no one would ever t ry it. How To is a guide to the third kind of approach. It's full of highly impractical advice for everything from landing a plane to digging a hole. Bestselling author and cartoonist Randall Munroe explains how to predict the weather by analyzing the pixels of your Facebook photos. He teaches you how to tell if you're a baby boomer or a millennial by measuring the radioactivity of your teeth. He offers tips for taking a selfie with a telescope, crossing a river by boiling it, and getting to your appointments on time by destroying the moon. And if you want to get rid of this book once you're done with it, he walks you through your options for proper disposal, including dissolving it in the ocean, converting it to a vapour, using tectonic plates to subduct it into the Earth's mantle, or launching it into the sun. By exploring the most complicated ways to do simple tasks, Munroe doesn't just make things difficult for himself and his readers. As he did so brilliantly in What If?, he invites us to explore the most absurd reaches of the possible. Full of clever infographics and amusing illustrations, How To is a delightfully mind-bending way to better understand the science and technology underlying the things we do every day. ...Show more
On the Origin of Species
by Charles Darwin; William Bynum (Editor, Notes by, Introduction by); Janet Browne (Editor); Damien Hirst (Illustrator)
$16.99
AUD
Category: Penguin Spinner Non-fiction
On the Origin of Species is Charles Darwin's classic treatise on his theory of evolution and natural selection and is among the most important works in the history of science and evolutionary biology. When on board H.M.S. Beagle, as naturalist, I was much struck with certain facts in the distribution of the inhabitants of South America, and in the geological relations of the present to the past inhabitants of that continent. These facts seemed to me to throw some light on the origin of species--that mystery of mysteries, as it has been called by one of our greatest philosophers. On the Origin of Species (or more completely, On the Origin of Species by Means of Natural Selection, or the Preservation of Favoured Races in the Struggle for Life), 3] published on 24 November 1859, is a work of scientific literature by Charles Darwin which is considered to be the foundation of evolutionary biology. Darwin's book introduced the scientific theory that populations evolve over the course of generations through a process of natural selection. It presented a body of evidence that the diversity of life arose by common descent through a branching pattern of evolution. Darwin included evidence that he had gathered on the Beagle expedition in the 1830s and his subsequent findings from research, correspondence, and experimentation. 5] Various evolutionary ideas had already been proposed to explain new findings in biology. There was growing support for such ideas among dissident anatomists and the general public, but during the first half of the 19th century the English scientific establishment was closely tied to the Church of England, while science was part of natural theology. Ideas about the transmutation of species were controversial as they conflicted with the beliefs that species were unchanging parts of a designed hierarchy and that humans were unique, unrelated to other animals. The political and theological implications were intensely debated, but transmutation was not accepted by the scientific mainstream. The book was written for non-specialist readers and attracted widespread interest upon its publication. As Darwin was an eminent scientist, his findings were taken seriously and the evidence he presented generated scientific, philosophical, and religious discussion. The debate over the book contributed to the campaign by T. H. Huxley and his fellow members of the X Club to secularise science by promoting scientific naturalism. Within two decades there was widespread scientific agreement that evolution, with a branching pattern of common descent, had occurred, but scientists were slow to give natural selection the significance that Darwin thought appropriate. During "the eclipse of Darwinism" from the 1880s to the 1930s, various other mechanisms of evolution were given more credit. With the development of the modern evolutionary synthesis in the 1930s and 1940s, Darwin's concept of evolutionary adaptation through natural selection became central to modern evolutionary theory, and it has now become the unifying concept of the life sciences, especially evolutionary biology. ...Show more
$22.99
AUD
Category: Science
A New York Times BestsellerA Midwest Connections PickA National BestsellerNamed one of Time magazine's "100 Most Influential People"A Time and Entertainment Weekly Best Book of 2016 So FarLab Girl is a book about work, love, and the mountains that can be moved when those two things come together. It is told through Jahren's remarkable stories: about her childhood in rural Minnesota with an uncompromising mother and a father who encouraged hours of play in his classroom's labs; about how she found a sanctuary in science, and learned to perform lab work done "with both the heart and the hands"; and about the inevitable disappointments, but also the triumphs and exhilarating discoveries, of scientific work.Yet at the core of this book is the story of a relationship Jahren forged with a brilliant, wounded man named Bill, who becomes her lab partner and best friend. Their sometimes rogue adventures in science take them from the Midwest across the United States and back again, over the Atlantic to the ever-light skies of the North Pole and to tropical Hawaii, where she and her lab currently make their home. ...Show more
$24.99
AUD
Category: Penguin Spinner Non-fiction | Series: Patterns of Life Ser.
PATTERNED PLANET: SPECIAL EDITIONS OF GROUNDBREAKING SCIENCE BOOKS Why has human history unfolded so differently across the globe? In this Pulitzer Prize-winning book, Jared Diamond puts the case that geography and biogeography, not race, moulded the contrasting fates of Europeans, Asians, Native Americ ans, sub-Saharan Africans, and aboriginal Australians. An ambitious synthesis of history, biology, ecology and linguistics, Guns, Germs and Steel remains a ground-breaking and humane work of popular science. ...Show more
$29.99
AUD
Category: Science | Series: The Neuroplasticity Chronicles | Reading Level: very good
An astonishing new scientific discovery called neuroplasticity is overthrowing the centuries-old notion that the adult human brain is fixed and unchanging. It is, instead, able to change its own structure and function, even into old age. Psychiatrist and researcher Norman Doidge, MD, travelled around th e United States to meet the brilliant scientists championing neuroplasticity, and the people whose lives they've transformed -- people whose mental limitations or brain damage were previously seen as unalterable, and whose conditions had long been dismissed as hopeless. We see a woman born with half a brain that rewired itself to work as a whole; a woman labelled retarded who cured her deficits with brain exercises and now cures those of others; blind people who learn to see; learning disorders cured; IQs raised; ageing brains rejuvenated; stroke patients recovering their faculties; children with cerebral palsy learning to move more gracefully; entrenched depression and anxiety disappearing; and lifelong character traits changed. Doidge takes us onto terrain that might seem fantastic. We learn that our thoughts can switch our genes on and off, altering our brain anatomy. We learn how people of average intelligence can, with brain exercises, improve their cognition and perception, develop muscle strength, or learn to play a musical instrument -- simply by imagining doing so. Using personal stories from the heart of this neuroplasticity revolution, Dr Doidge has written an immensely moving, inspiring book that will permanently alter the way we look at our brains, human nature, and human potential. ...Show more
$24.95
AUD
Category: Science | Reading Level: good
Everyone knows that high IQ is no guarantee of success, happiness, or virtue, but until Emotional Intelligence, we could only guess why. Daniel Goleman's brilliant report from the frontiers of psychology and neuroscience offers startling new insight into our "two minds"--the rational and the emotional-- and how they together shape our destiny.   Through vivid examples, Goleman delineates the five crucial skills of emotional intelligence, and shows how they determine our success in relationships, work, and even our physical well-being. What emerges is an entirely new way to talk about being smart.   The best news is that "emotional literacy" is not fixed early in life. Every parent, every teacher, every business leader, and everyone interested in a more civil society, has a stake in this compelling vision of human possibility.   Praise for Emotional Intelligence   "A thoughtfully written, persuasive account explaining emotional intelligence and why it can be crucial to your career."--USA Today"Good news to the employee looking for advancement and] a wake-up call to organizations and corporations."--The Christian Science Monitor   "Anyone interested in leadership . . . should get a copy of this book. In fact, I recommend it to all readers anywhere who want to see their organizations in the phone book in the year 2001."--Warren Bennis, The New York Times Book Review ...Show more