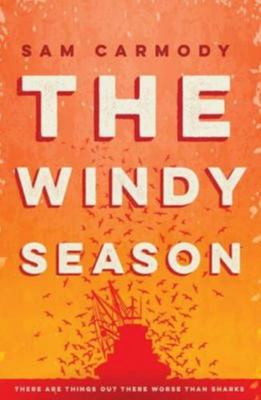 $29.99
AUD
Category: Contemporary | Reading Level: very good
Sam Carmody is a writer and award-winning musician from the mid-west town of Geraldton on the central coast of Western Australia. He is also a previous recipient of the Mary Grant Bruce Award as part of the Fellowship of Australian Writers (FAW) National Literary Awards and his short fiction and non-fic tion have been published widely online and in print. Carmody's first novel, The Windy Season, was shortlisted for the 2014 Australian/Vogel's literary Award. He is currently living in Darwin on Australia's Northern Territory coast lecturing in creative writing at the Batchelor Institute of Indigenous Higher Education ...Show more
$14.99
AUD
Category: Middle Readers | Series: The Storm Keeper Quartet
Catherine Doyle's stunning middle-grade debut, an evocative tale of ancient magic, bravery, and family bonds."Fans of Harry Potter or Percy Jackson can add Fionn Boyle as a generous and brave hero from the Emerald Isle." - School Library Connection When Fionn Boyle sets foot on Arranmore Island, it beg ins to stir beneath his feet. Once in a generation, the island chooses a new Storm Keeper - someone to wield its power and keep its magic safe from enemies. The time has come for Fionn's grandfather, a secretive and eccentric old man, to step down. Soon, a new Keeper will rise. Fionn's ancestral home has been waiting for him. But, deep underground, someone else has been waiting, too. As the battle rages over who will become the island's next champion, a more sinister magic is waking up, intent on rekindling an ancient war. Catherine Doyle's gorgeously written and evocative tale is perfect for fans of Orphan Island, Beyond the Bright Sea, and A Snicker of Magic. ...Show more
$14.99
AUD
Category: Contemporary | Reading Level: very good
Centring on the infamous fire-bombing of Dresden in the Second World War, Billy Pilgrim's odyssey through time reflects the journey of our own fractured lives as we search for meaning in what we are afraid to know.
$19.99
AUD
Category: Junior Readers | Series: Polly and Buster
From Australia's best-selling female author, Sally Rippin, comes Polly and Buster - a brand new junior fiction series about the magic of friendship.    Who ever heard of a witch and a monster being friends?   Everyone knows that witches don't mix with monsters. Witches are educated, clever, sophisticate d. But monsters? Monsters are just uncouth. Some are even dangerous.    But Polly the witch and Buster the feelings monster have been best friends forever.  It's the sort of friendship that makes your heart squeeze with happiness.  Somehow, they've managed to keep their friendship a secret.  Until one day, when everything changes ...   Sally Rippin is the author of over 50 books for young readers, including the best-selling Billie B Brown early reader series, and its recent spin-offs, A Billie B Mystery, Billie's Adventures and the Hey Jack! series. Her new series Polly and Buster is accompanied by her own enchanting illustrations.    ...Show more
$24.99
AUD
Category: non-fiction picture book
Smart is not just ticks and crosses,smart is building boats from boxes.Painting patterns, wheeling wagons,being mermaids, riding dragons … From the award-winning creators of The Underwater Fancy-dress Parade and Under the Love Umbrella comes this joyful ode to all the unique and wonderful qualities that make children who they are. Teachers' Resources are available for this title.   ...Show more
$14.99
AUD
Category: Penguin Spinner Fiction | Reading Level: Adult
'Shoot all the bluejays you want, if you can hit 'em, but remember it's a sin to kill a mockingbird.' Meet Scout, the narrator of this book. Her story is one of Deep South summers, fights at school and playing in the street. The spooky house of her mysterious neighbour, Boo Radley, sags dark and forbidd ing nearby. Her brother, Jem, and her friend, Dill, want to make Boo come outside. Her story is about justice. When Scout's father, a lawyer, agrees to defend a black man against an accusation by a white girl, he must battle the prejudice of the whole town.It's about imagination - not just the kind you need for childhood games. Because you never really know a man until you stand in his shoes and walk around in them. Vintage Children's Classics is a twenty-first century classics list aimed at 8-12 year olds and the adults in their lives. Discover timeless favourites from The Jungle Book and Alice's Adventures in Wonderland to modern classics such as The Boy in the Striped Pyjamas and The Curious Incident of the Dog in the Night-Time. ...Show more
$18.99
AUD
Category: Classics | Reading Level: very good
Ray Bradbury's internationally acclaimed novel Fahrenheit 451 is a masterwork of twentieth-century literature set in a bleak, dystopian future. Guy Montag is a fireman. In his world, where television rules and literature is on the brink of extinction, firemen start fires rather than put them out. His jo b is to destroy the most illegal of commodities, the printed book, along with the houses in which they are hidden. Montag never questions the destruction and ruin his actions produce, returning each day to his bland life and wife, Mildred, who spends all day with her television "family." But then he meets an eccentric young neighbor, Clarisse, who introduces him to a past where people didn't live in fear and to a present where one sees the world through the ideas in books instead of the mindless chatter of television. When Mildred attempts suicide and Clarisse suddenly disappears, Montag begins to question everything he has ever known. He starts hiding books in his home, and when his pilfering is discovered, the fireman has to run for his life. ...Show more
$19.99
AUD
Category: Junior Readers | Series: Polly and Buster
What would you do if everyone thought your best friend was dangerous?   Polly the witch and Buster the monster shouldn't be friends. And they definitely shouldn't be on the run from almost everyone in town. But when Polly is called to the Hollow Valley Mines - the forbidden, haunted mines - by her magic stones, these two best friends have a big decision to make. Do they stay hidden and safe, or risk it all to save the day? The magical sequel toThe Wayward Witch and the Feelings Monster. Written and illustrated by Sally Rippin.   ...Show more
$16.99
AUD
Category: Middle Readers | Series: Ada | Reading Level: From 10
An exceptionally moving story of triumph against all odds set during World War 2, from the acclaimed author of Jefferson's Sons and for fans of Number the Stars. Nine-year-old Ada has never left her one-room apartment. Her mother is too humiliated by Ada's twisted foot to let her outside. So when her l ittle brother Jamie is shipped out of London to escape the war, Ada doesn't waste a minute--she sneaks out to join him. So begins a new adventure of Ada, and for Susan Smith, the woman who is forced to take the two kids in. As Ada teaches herself to ride a pony, learns to read, and watches for German spies, she begins to trust Susan--and Susan begins to love Ada and Jamie. But in the end, will their bond be enough to hold them together through wartime? Or will Ada and her brother fall back into the cruel hands of their mother? This masterful work of historical fiction is equal parts adventure and a moving tale of family and identity--a classic in the making. ...Show more
$22.99
AUD
Category: Contemporary | Reading Level: very good
No one's ever told Eleanor that life should be better than fine. Meet Eleanor Oliphant: She struggles with appropriate social skills and tends to say exactly what she's thinking. Nothing is missing in her carefully timetabled life of avoiding social interactions, where weekends are punctuated by frozen pizza, vodka, and phone chats with Mummy.   But everything changes when Eleanor meets Raymond, the bumbling and deeply unhygienic IT guy from her office. When she and Raymond together save Sammy, an elderly gentleman who has fallen on the sidewalk, the three become the kinds of friends who rescue one another from the lives of isolation they have each been living. And it is Raymond's big heart that will ultimately help Eleanor find the way to repair her own profoundly damaged one.   Smart, warm, uplifting, Eleanor Oliphant is Completely Fine is the story of an out-of-the-ordinary heroine whose deadpan weirdness and unconscious wit make for an irresistible journey as she realizes. . .   The only way to survive is to open your heart. ...Show more
$16.99
AUD
Category: Science Fiction/Dystopian | Series: Arc of a Scythe
Two teens must learn the "art of killing" in this Michael L Printz Honor award book, the first in a chilling new series from the author of the New York Times' bestselling Unwind dystology.
$19.99
AUD
Category: Middle Readers | Series: The Jane Doe Chronicles
Step inside. Don't look back. Forward is the only way. His Dark Materials meets Mad Max in this unforgettable blockbuster adventure about the world between worlds. When a fierce quake strikes the remote island of Bluehaven, and her father disappears, Jane Doe is thrown headfirst into an epic quest to br ing him home.  But this ain't no ordinary rescue mission. Her father is lost in a place between worlds; a dangerous labyrinth of shifting rooms, infernal booby traps and secret gateways. And Jane has to find him fast, because someone else is searching for him, too. A man who knows her father's secrets. A man who has an army.  Along with a sidekick named Violet and the enigmatic Hickory, Jane is about to discover that this adventure is even bigger on the inside than it looks ...  This is the blockbuster adventure the worlds have been waiting for. ...Show more