$29.99
AUD
Category: Indoor, succulents & terrariums.
Is your monstera getting monstrous? Snake plant looking sickly? Fiddle-leaf fading? Devil's ivy dropping leaves? Dr. Houseplant is your key to a thriving indoor home garden. Build your confidence and plant collection with this guide and learn to give your favourite houseplants the best care. Packed with information from choosing healthy plants to creating space for them to flourish in your home, Dr. Houseplant is the go-to for any plant enthusiast, whether you're just starting out or a seasoned green thumb. The book includes features on 42 of the most popular houseplants, including monsteras, ferns and cacti. Each feature provides you with the knowledge to provide the ideal conditions for each variety, from watering, feeding and temperature control, and will show you how to identify and treat common issues, such as pests and fungal diseases, with tailored solutions to suit every plant and home. With photography that illustrates the beauty and life plants can bring to your home, Dr. Houseplant will inspire and help you cultivate your own indoor garden.   ...Show more
$27.99
AUD
Category: Indoor, succulents & terrariums.
Design, plant, and grow a world of your very own--inside a terrarium Including 15 unique, imagination-inspiring project plans, each accompanied by adorable, full-color photographs, kids and their grown-ups will discover how easy terrariums are to plant and grow. Kids love to create, imagine, and have f un. Nothing fulfills all three of those desires quite like designing and planting a terrarium. With the step-by-step project instructions found in A Family Guide toTerrariums for Kids, the results are beautiful, inspiring, and confidence-building. Making these little landscapes develops motor skills, spacial awareness, and provides a wealth of sensory input. The science behind the art is included with quick and simple lessons on ecosystem functions, the water cycle, and plant nutrition. But for kids, it's all about being active and building something cool Plus, when the project is complete, there's a piece of living art to share with family and friends or display on a bedroom shelf. With the terrarium plans found in A Family Guide to Terrariums for Kids, everyone in the family can tap their inner "science geek" to: Use multi-colored sand and succulents to craft a desert terrarium Plant, trim, and tend a terrarium bonsai tree Build a peat bog filled with carnivorous plants Make an aquatic terrarium, complete with a marimo moss ball "pet" Design a prehistoric garden of air plants Create a plant-filled habitat for a praying mantis Grow a Japanese garden with living rocks With information on selecting the best terrarium container, growing materials, decorative elements, tools, and plants, readers are primed for success that lasts long after the terrarium has been built. Terrariums combine imagination and creativity with a dash of hands-on science. And you get to play in the dirt What could be better than that? ...Show more
$34.99
AUD
Category: Indoor, succulents & terrariums.
The Victorians suffered from _fern madness_; the 1970s was the age of the macramé plant hanger; the Japanese believe that where there are plants, life energy flows well. For centuries and across cultures, plants have transformed interiors. Today houseplants are once again experiencing a revival. Bree Cl affey of renowned Australian emporium Mr Kitly journeys in the worlds of her plant-loving friends to share their joy-inducing, plant-filled spaces. This is more than a gardening book: this is an inspirational look at life with plants. From the ever-reliable Peace lily and beguiling Fiddle leaf fig to the elusive Chinese money plant, houseplants are showcased in all their weird and wonderful forms. More than good-looking props, plants are living growing things rooted in community and creativity. As this book celebrates, houseplants are not a passing trend _ they are a way of life. ...Show more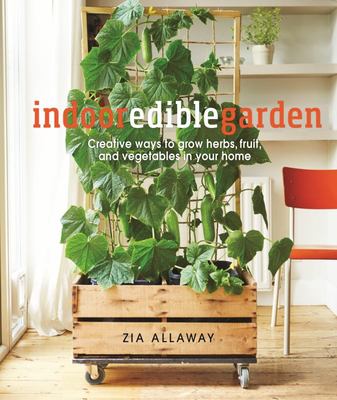 $39.99
AUD
Category: Indoor, succulents & terrariums.
Want to grow your own, but have no garden? No problem! This inspirational book shows you how to grow delicious ingredients that look great and taste even better - all inside your own home. Indoor Edible Gardenis packed with stunning projects, ranging from simple windowsill planters and chic hanging dis plays to crates of fruiting produce, and is full of practical tips and stylish ideas for creating an indoor garden. Learn which plants and varieties are best to grow in Australian homes, how to maximise the space and light you have, and how to care for all your plants. Indoor Edible Garden will help you enjoy fresh produce all year round - all your favourite vegetables, herbs, edible flowers, and fruits. ...Show more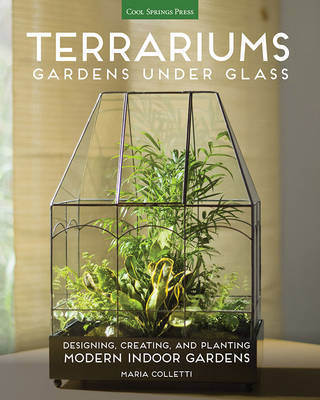 $29.99
AUD
Category: Indoor, succulents & terrariums.
Dive into the ultimate handcrafted, fun way to bring the natural world indoors!Terrariums are back and better than ever! If you haven't seen this virtually foolproof and no-fuss way to bring nature indoors in the last forty years, you are in for a treat. Whether you live in an apartment, are chained to an office desk, or just want to be surrounded by green, living things, creating terrariums is a delightful way to combine the worlds of home decor and gardening. Terrarium expert and teacher Maria Colletti makes designing your very own interior gardens easy with step-by-step photos of over twenty of her own designs. Get all of the information you need on the "it" plants of today--tillandsias (air plants), orchids, mosses, cacti, and succulents, along with "traditional" terrarium ferns.Learn how to transform basic designs using moss, air plants, succulents, vertical planters, hanging glass globes, and more into an unlimited creative palette. Once you know the basics (the plants, the vessels, and a basic understanding of soil, water, and humidity), you can mix and match for an endless exploration of your own creativity! ...Show more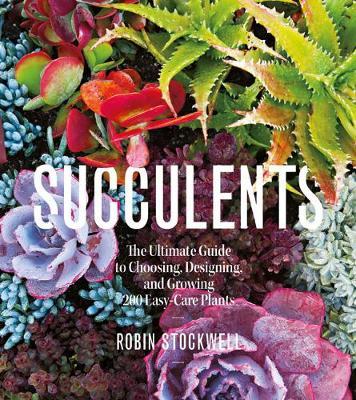 $39.99
AUD
Category: Indoor, succulents & terrariums.
Inspiring, practical and richly photographed, this comprehensive guide offers creative ideas and DIY projects using beautiful low-maintenance, water-wise plants. Succulents are the ultimate easy-care plant: versatile, effortless to grow both indoors and outdoors and drought tolerant. From Aloe and Agave s, to Senecio and Taciveria, this handbook by leading garden expert Robin Stockwell highlights 200 of the easiest, most useful, and gorgeous plants and shares advice on care and cultivation. Readers will find inspiration for imaginative and exciting new ways to use succulents in striking garden designs, containers, and indoor arrangements, as well as step-by-step projects, such as living bouquets and terrarium ornaments. ...Show more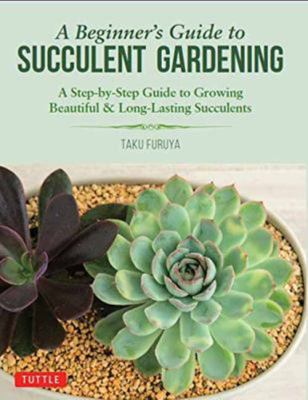 $22.99
AUD
Category: Indoor, succulents & terrariums.
Adored for their charming shapes and colors, respected for their resilience and adaptability, and just plain fun to have around--succulents are the hottest home gardening trend today. A Beginner's Guide to Succulent Gardening is a friendly guide to popular succulents, walking novices through all the bas ics, like: Choosing your succulents--from Hens and Chicks (Echeveria) to bristly flowering cactus varieties Mixing the right soils for your succulents and preparing the growing environment Easy potting and transplanting techniques Succulent care--including watering, fertilizing and providing the right amount of sun for each variety Understanding peak periods as well as seasonal traits and needs, so you can have a beautiful succulent garden year-round This book contains all sorts of helpful tips on what to look for when buying a plant, how to troubleshoot when your succulent shows signs of distress, how to trim the leaves and stems, and how to start new plants from cuttings. Clear diagrams and at-a-glance fact sheets for each variety, as well as inspirational photos of attractively and happily-housed succulents, fill the pages of this book. Now is the time to give succulents a try Let A Beginner's Guide to Succulent Gardening be your guide to get you started and grow your indoor garden one succulent at a time. ...Show more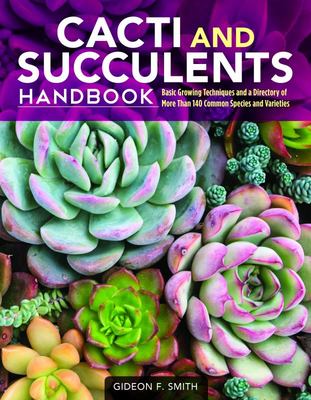 $29.99
AUD
Category: Indoor, succulents & terrariums.
Cacti and Succulents Handbook is your guide to the selection and cultivation of these diverse and fascinating plants. Appealing to both the novice and experienced gardener, this book provides comprehensive information on more than 140 common species and varieties, including their ideal locations, natura l habitats and care and feeding needs. Complete descriptions and colour photographs make plant identification easy, and detailed care instructions will help make sure that plants thrive, whether they're being grown indoors or out, in the city or in the country. Beautiful specimen plants are fully detailed from six garden collections around the world, from Zurich to Phoenix. ...Show more
Indoor Jungle
by Lauren Camilleri; Sophia Kaplan
$49.99
AUD
Category: Indoor, succulents & terrariums.
This book is a luxurious guide to creating the very densest of jungles in your living room. It's time to finally turn that thumb green. With this stunningly photographed greenery guide, anyone can master the art of making your living room thrive. When done correctly, curating any decent houseplant can b e just as effective as hanging a beautiful work of art. After all, our green companions are known to be beneficial for mental health and for general health (being oxygenators), as well as a key element of any well-balanced interior.   Lauren and Sophia run the wildly successful nursery and interior-design store Leaf Supply, in Sydney, Australia. They wrote a beautifully designed book by the same name in 2018. Now, with Indoor Jungle, they explain (in layperson's terms) how to best transform your house into a veritable greenhouse. In this sequel of sorts, Lauren and Sophia cast their plant-loving net far wider than simply fabulous Australian interiors, featuring jungle-y architecture from around the world   For each spread of beautifully verdant interiors, the duo breaks down how the foliage within is surviving (and thriving). Ablaze with jaw-dropping photography, Indoor Jungle will deserve its own prominent place in your new, improved, and jungleified living room. ...Show more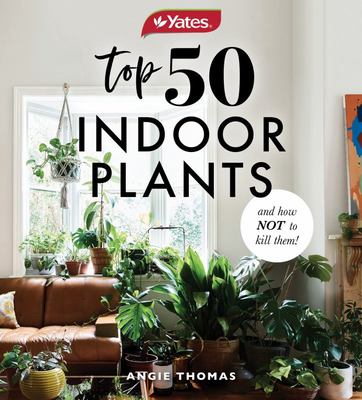 $35.00
AUD
Category: Indoor, succulents & terrariums.
The top 50 indoor houseplants for Australia and New Zealand - what's best and how to keep them alive. Bring the outdoors in and breathe new life to your home with plants! House plants are well and truly back on trend - they instantly lift an area, make a room feel fresh and welcoming, and brighten your mood. On top of this, indoor plants are great for purifying the air and creating a healthier home.Together with microbes in the soil, plants work wonders to reduce harmful pollutants released from indoor furniture. (It's true: look at the study conducted by the University of Technology, Sydney.) If you feel like your rooms need a splash of colour and a breath of life, there's no better starting point than this book. Whether your style is dramatic jungle plants or to sweetly shaped succulents, you'll find something to suit. With loads of glorious illustrations for inspiration, data on which plants are suitable where, and clear advice on how to pot, prune and pet your plants, this is the perfect guide for bringing the outdoors in - no matter what your level of gardening skill! ...Show more
$39.99
AUD
Category: Indoor, succulents & terrariums.
Learn how to care for your succulents, cacti and air plants with this beautiful but practical guide to indoor plants. These gorgeous, fashionable plants are handsome, hardy and perfect for urban living and this comprehensive companion is all you need to learn how to nurture and enjoy them, as well as ho w to stylishly arrange them in your home. Explaining how to look after individual plants, running through the soil, watering, light, food and more, this stylish go-to guide also shows you how to take cuttings to share with friends, make gifts, terrariums and displays, and other ways to make these fantastic plants part of your life. ...Show more
$32.99
AUD
Category: Australian gardens
In Green, Jason Chongue explains and simplifies how to curate and look after plants in small urban spaces. He provides a practical and personal guide to creating urban gardens and styling with plants, perfect for a range of environments and climates, inside or out. From balconies, porches, courtyards an d small backyards to entryways, offices and living spaces, this 'how to' guide is an approachable resource for gardeners of all types.   Chapters cover understanding your climate, a plant maintenance calendar, curating a range of spaces and appreciating plants in public spaces, as well as quick tips for styling and plant care. Jason also invites 'Plant People' across the globe to provide an insight into how people are inspired by nature. Green is the perfect guide to small-space gardening, beautifully photographed and illustrated, and will help you transform your indoor and outdoor spaces into a lush, healthy oasis in no time.   ...Show more