American humourist P.J. O'Rourke once said, "Always read something that will make you look good if you die in the middle of it." But sometimes we simply feel like reading something other than all those worthy and impressive literary award winners - something lighter but still well-written, something wonderfully witty which makes us laugh out loud, or maybe just a cracking good adventure. So for all of you who wander in and tell us that you're looking for something different to read, but you don't really know what you want; or who need something for a friend in hospital; or a book to take on holiday; or just something to escape from the grimness of the nightly news - we are delighted to present a new area in our bookshop entitled "Feel-Good Reads."

Titles include both fiction and non-fiction options - beloved classics from P.G. Wodehouse, Barbara Pym, and Nancy Mitford; hilarious travel narratives from Bill Bryson; amusing essays from David Sedaris and Augusten Burroughs; modern Australian classics from John Clarke, Shane Maloney, and Thea Astley; plus many more from Kurt Vonnegut's Breakfast of Champions to Sue Townsend's Adrian Mole series; from Alexander McCall-Smith's warm and witty Scottish tales to Paul Carter's gripping and often hilarious true-life adventures.
We will also be promoting Feel-Good Friday where we will feature a chosen title from these shelves and posting on facebook, twitter and instagram so keep an eye out for your next great read. 
$22.99
AUD
Category: Feel Good Fiction | Reading Level: good
WINNER OF THE PULITZER PRIZE FOR FICTION 2018 'You will sob little tears of joy' Nell Zink 'I recommend it with my whole heart' Ann Patchett 'I adore this book' Armistead Maupin 'Charming, languid and incredibly funny, I absolutely adored Arthur' Jenny Colgan 'Marvellously, endearingly, unexpectedly fun ny' Gary Shteyngart 'Bedazzling, bewitching and be-wonderful' New York Times Book Review 'A fast and rocketing read . . . a wonderful, wonderful book!' Karen Joy Fowler 'Hilarious, and wise, and abundantly funny' Adam Haslett WHO SAYS YOU CAN'T RUN AWAY FROM YOUR PROBLEMS? Arthur Less is a failed novelist about to turn fifty. A wedding invitation arrives in the post: it is from an ex-boyfriend of nine years who is engaged to someone else. Arthur can't say yes - it would be too awkward; he can't say no - it would look like defeat. So, he begins to accept the invitations on his desk to half-baked literary events around the world. From France to India, Germany to Japan, Arthur almost falls in love, almost falls to his death, and puts miles between him and the plight he refuses to face. Less is a novel about mishaps, misunderstandings and the depths of the human heart. ...Show more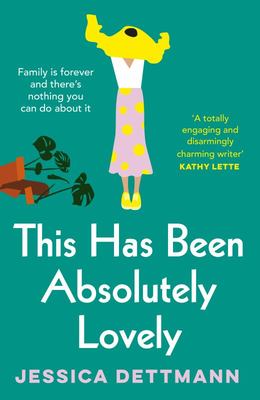 $29.99
AUD
Category: Feel Good Fiction
Family is forever, and there's nothing you can do about it.The charming, hilarious and all-too-relatable new novel from the author of How to be Second Best Molly's a millennial home organiser about to have her first baby. Obviously her mum, Annie, will help with the childcare. Everyone else's parents ar e doing it. But Annie's dreams of music stardom have been on hold for thirty-five years, paused by childbirth then buried under her responsibilities as a mother, wage earner, wife, and only child of ailing parents. Finally, she can taste freedom. As Molly and her siblings gather in the close quarters of the family home over one fraught summer, shocking revelations come to light. Everyone is forced to confront the question of what it means to be a family. This Has Been Absolutely Lovely is a story about growing up and giving in, of parents and children, of hope and failure, of bravery and defied expectation, and the question of whether it is ever too late to try again. Praise for Jessica Dettmann:'A totally engaging and disarmingly charming writer' Kathy Lette 'A natural knack for humour' Better Reading 'Blends the family drama of Liane Moriarty with the humour of Sophie Kinsella' Newtown Review of Books 'Ultimate summer read' Herald Sun 'Heartwarming yet biting' Sunday Telegraph 'Sharp and crisp and funny. I was dazzled.' Mia Freedman ...Show more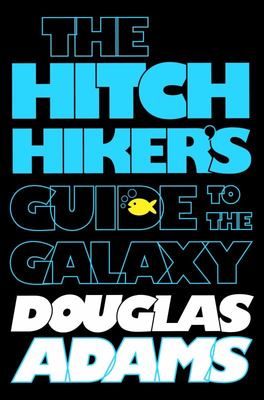 $16.99
AUD
Category: Feel Good Fiction | Series: The Hitchhiker's Guide to the Galaxy
One Thursday lunchtime, the Earth gets unexpectedly demolished to make way for a new hyperspace bypass. It's the final straw for Arthur Dent, who has already had his house bulldozed that morning. But for Arthur, that is only the beginning ...In the seconds before global obliteration, Arthur is plucked from the planet by his friend Ford Prefect - and together the pair venture out across the galaxy on the craziest, strangest road trip of all time. ...Show more
$19.99
AUD
Category: Chat10Looks3 Recommendations | Series: Picador Classic | Reading Level: very good
With an introduction by P. J. O'Rourke 'Do not read this book in public. You will risk severe internal injuries from trying to suppress your laughter.' Sunday Times I was born in 1939. The other big event of that year was the outbreak of the Second World War, but for the moment that did not affect me. I n the first instalment of Clive James's memoirs we follow the young Clive on his journey from boyhood to the cusp of manhood, when his days of wearing short trousers are finally behind him. Battling with school, girls, various relatives and an overwhelming desire to be a superhero, Clive's adventures growing up in the suburbs of post-war Sydney are hair-raising, uproarious and almost too good to be true ...Told with James's unassailable sense of humour and self-effacing charm, Unreliable Memoirs is a hilarious and touching introduction to the story of a national treasure. A million-copy bestseller, this classic memoir is a celebration of life in all its unpredictable glory.   ...Show more
$19.99
AUD
Category: Feel Good Non-fiction
Kitty Flanagan has been locked in an industrial freezer in Western Australia, insulted about the size of her lady parts in Singapore and borne witness to the world's most successful wife swap in suburban Sydney. It's these valuable lessons from The University of Life that have taught her so many things, including the fact that cliches like 'The University of Life' are reeeally annoying. In these funny, true stories, Kitty provides advice you didn't even know you needed. Useful tips on how not to get murdered while hitchhiking, how to break up with someone the wrong way, and the right way, why it's important to keep your top on while waitressing, and why women between the ages of 37 and 42 should be banned from internet dating. Bridge Burning and Other Hobbies is a collection of laugh-out-loud, cautionary tales from one of Australia's favourite comedians.   ...Show more
Adults
by Emma Jane Unsworth
$22.99
AUD
Category: Feel Good Fiction
THE SUNDAY TIMES BESTSELLER 'HILARIOUS' Stylist 'DAZZLING' Marian Keyes 'WITTY' Guardian 'HEARTBREAKING' Dolly Alderton 'INCREDIBLE' Candice Carty-Williams Jenny McLaine: * can't afford her mortgage since her ex moved out * is about to get dumped by her best friend * spends all day online-stalkin g women with picture-perfect lives And now her mother has appeared on her doorstep, unbidden, to save the day... Is Jenny ready to grow up and rescue herself this time? ...Show more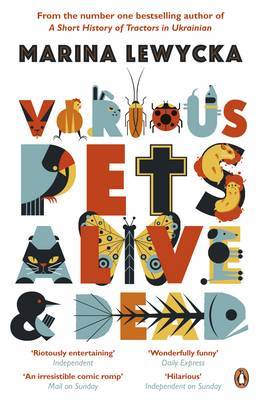 $19.99
AUD
Category: Feel Good Fiction
Lentils, free love, radical politics and family truths..."Various Pets Alive and Dead" is the wonderfully funny fourth novel from Marina Lewycka, author of the bestselling "A Short History of Tractors in Ukrainian". For twenty years Doro and Marcus lived in a commune, convinced lentils and free love wou ld change the world. They didn't. What they did do was give their children a terror of radicalism, dirt, cooking rotas and poverty. Their daughter Clara wants nothing less conformist than her own, clean bathroom. Their son Serge hides the awkward fact that he's a banker earning loadsamoney. So when Doro and Marcus spring a surprise on their kids - just as the world is rocked in ways they always wished for - the family is forced to confront some thorny truths about themselves..."Wonderfully funny ...a dizzy, eye-watering treat ...Lewycka is somewhere between Hilary Mantel in her satirical mode and Sue Townsend". ("Independent"). "Thank heavens for Marina Lewycka whose "Various Pets Alive and Dead" made me laugh at least once in every chapter ...The warmth of its tone, its zest, its blend of quirky, humane comedy and intellectual seriousness make this a novel to treasure". ("New Statesman"). "Marina Lewycka's latest novel is wonderfully funny with moments of pure farce in the best tradition of social satire ...this inventive and witty book fizzes along from beginning to end". ("Daily Express"). Marina Lewycka was born in Kiel, Germany, after the war, grew up in England and lives in Sheffield. Her first novel, "A Short History of Tractors in Ukrainian", was shortlisted for the Orange Prize, longlisted for the Man Booker and won the Bollinger Everyman Prize for Comic Fiction and the Waverton Good Read Award. Her second novel, "Two Caravans", was shortlisted for the Orwell Prize. "A Short History of Tractors in Ukrainian", "Two Caravans" and Marina's third novel, "We Are All Made of Glue", are all available in Penguin ...Show more
Good Omens
by Terry Pratchett; Neil Gaiman
$19.99
AUD
Category: Feel Good Fiction
"'Armageddon only happens once, you know. They don't let you go around again until you get it right'i>eople have been predicting the end of the world almost from its very beginning, so it's only natural to be sceptical when a new date is set for Judgement Day. But what if, for once, the predictions a re right, and the apocalypse really is due to arrive next Saturday, just after tea? You could spend the time left drowning your sorrows, giving away all your possessions in preparation for the rapture, or laughing it off as (hopefully) just another hoax. Or you could just try to do something about it." ...Show more
Catch-22
by Joseph Heller; Howard Jacobson (Introduction by)
$14.99
AUD
Category: Feel Good Fiction | Series: Vintage Classics Ser. | Reading Level: very good
This fiftieth-anniversary edition commemorates Joseph Heller's masterpiece with a new introduction; critical essays and reviews by Norman Mailer, Alfred Kazin, Anthony Burgess, and others; rare papers and photos; and much more.   Nominated as one of America's best-loved novels by PBS's The Great America n Read.   Soon to be a Hulu limited series starring Christopher Abbott, George Clooney, Kyle Chandler, and Hugh Laurie.   Fifty years after its original publication, Catch-22 remains a cornerstone of American literature and one of the funniest--and most celebrated--books of all time. In recent years it has been named to "best novels" lists by Time, Newsweek, the Modern Library, and the London Observer.   Set in Italy during World War II, this is the story of the incomparable, malingering bombardier, Yossarian, a hero who is furious because thousands of people he has never met are trying to kill him. But his real problem is not the enemy--it is his own army, which keeps increasing the number of missions the men must fly to complete their service. Yet if Yossarian makes any attempt to excuse himself from the perilous missions he's assigned, he'll be in violation of Catch-22, a hilariously sinister bureaucratic rule: a man is considered insane if he willingly continues to fly dangerous combat missions, but if he makes a formal request to be removed from duty, he is proven sane and therefore ineligible to be relieved.   This fiftieth-anniversary edition commemorates Joseph Heller's masterpiece with a new introduction by Christopher Buckley; a wealth of critical essays and reviews by Norman Mailer, Alfred Kazin, Anthony Burgess, and others; rare papers and photos from Joseph Heller's personal archive; and much more. Here, at last, is the definitive edition of a classic of world literature. ...Show more
$19.99
AUD
Category: Feel Good Fiction | Series: Jackson Brodie | Reading Level: very good
It is the Edinburgh Festival. People queuing for a lunchtime show witness a road-rage incident - an incident which changes the lives of everyone involved. Jackson Brodie, ex-army, ex-police, ex-private detective, is also an innocent bystander - until he becomes a suspect. With Case Histories, Kate Atkin son showed how brilliantly she could explore the crime genre and make it her own. In One Good Turn she takes her masterful plotting one step further. Like a set of Russian dolls each thread of the narrative reveals itself to be related to the last. Her Dickensian cast of characters are all looking for love or money and find it in surprising places. As ever with Atkinson what each one actually discovers is their true self. Unputdownable and triumphant, One Good Turn is a sharply intelligent read that is also percipient, funny, and totally satisfying. ...Show more
$24.99
AUD
Category: Feel Good Non-fiction | Series: Film Tie-in S.
In this unforgettable, and by turns hilarious and harrowing memoir, Augusten Burroughs recounts the bizarre events of his childhood. After his parents' divorce, his mother, a delusional poet, left him in the care of her psychiatrist, a man who might have benefited from a little therapy himself. Suddenly , at age twelve, Augusten found himself living in a dilapidated Victorian mansion with the doctor's bizarre family and a few patients. In the psychiatrist's house, there are no rules, only chaos. The Christmas tree stayed up until summer, Valium was eaten like Pez and, if things got dull, there was always the vintage electroshock-therapy machine under the stairs... RUNNING WITH SCISSORS is a true story, compelling and maniacally funny. Above all, it chronicles an ordinary boy's survival under the most extraordinary circumstances. ...Show more
$22.99
AUD
Category: Feel Good Non-fiction
Shaun Bythell owns the Bookshop, Scotland's largest second-hand bookshop. It contains 100,000 books, spread over a mile of shelving, with twisting corridors and roaring fires, and all set in a beautiful, rural town by the edge of the sea. A book-lover's paradise? Well, almost ... In these wry and hilari ous diaries, Shaun provides an inside look at the trials and tribulations of life in the book trade, from struggles with eccentric customers to wrangles with his own staff, who include the ski-suit-wearing, bin-foraging Nicky. He takes us with him on buying trips to old estates and auction houses, recommends books-both lost classics and new discoveries-introduces us to the thrill of the unexpected find, and evokes the rhythms and charms of small-town life, always with a sharp and sympathetic eye. Hilarious, wry, and charming, Shaun Bythell's stories from his second-hand bookshop in remotest Scotland are sure to delight readers of all stripes. ...Show more