We have a huge classics section. Please check it out under Fiction - Classics
$14.99
AUD
Category: Classics | Reading Level: very good
"From the acclaimed translators of War and Peace and Anna Karenina, a stunning new translation of Boris Pasternak s Nobel Prize-winning masterpiece, the first since the 1958 original. anned in the Soviet Union until 1988, Doctor Zhivago is the epic story of the life and loves of a poet-physician during the turmoil of the Russian Revolution. Taking his family from Moscow to what he hopes will be shelter in the Ural Mountains, Yuri Zhivago finds himself instead embroiled in the battle between the Whites and the Reds, and in love with the tender and beautiful nurse Lara. ichard Pevear and Larissa Volokhonsky have restored the rhythms, tone, precision, and poetry of Pasternak s original, bringing this classic of world literature gloriously to life for a new generation of readers." ...Show more
$12.99
AUD
Category: Classics | Reading Level: very good
Renowned urban artist Shepard Fairey's new look for Orwell's classic dystopian taleOne of Britain's most popular novels, George Orwell's Nineteen Eighty-Four is set in a society terrorised by a totalitarian ideology propagated by The Party. Winston Smith works for the Ministry of Truth in London, chief city of Airstrip One. Big Brother stares out from every poster, the Thought Police uncover every act of betrayal. When Winston finds love with Julia, he discovers that life does not have to be dull and deadening, and awakens to new possibilities. Despite the police helicopters that hover and circle overhead, Winston and Julia begin to question the Party; they are drawn towards conspiracy. Yet Big Brother will not tolerate dissent - even in the mind. For those with original thoughts they invented Room 101. . . Nineteen Eighty-Fouris George Orwell's terrifying vision of a totalitarian future in which everything and everyone is slave to a tyrannical regime. The novel also coined many new words and phrases which regular appear in popular culture, such as 'Big Brother', 'thoughtcrime', 'doublethink' and 'Newspeak'.%%%One of Britain's most popular novels, George Orwell's dystopian tale Nineteen Eighty-Four is set in a society terrorised by a totalitarian ideology propagated by The Party. 'It was a bright cold day in April, and the clocks were striking thirteen.'Winston Smith works for the Ministry of Truth in London, chief city of Airstrip One. Big Brother stares out from every poster, the Thought Police uncover every act of betrayal. When Winston finds love with Julia, he discovers that life does not have to be dull and deadening, and awakens to new possibilities. Despite the police helicopters that hover and circle overhead, Winston and Julia begin to question the Party; they are drawn towards conspiracy. Yet Big Brother will not tolerate dissent - even in the mind. For those with original thoughts they invented Room 101. . . Nineteen Eighty-Fouris George Orwell's terrifying vision of a totalitarian future in which everything and everyone is slave to a tyrannical regime. The novel also coined many new words and phrases which regular appear in popular culture, such as 'Big Brother', 'thoughtcrime', 'doublethink' and 'Newspeak'.'More relevant to today that almost any other book that you can think of' Jo Brand'Right up there among my favourite books...I read it again and again' Margaret AtwoodGeorge Orwell (Eric Arthur Blair) was an accomplished social, political and literary commentator and essayist known for his non-fiction works The Road to Wigan Pierand Homage to Catalonia. His most famous novels, Animal Farmand 1984 have influenced a generation of twentieth century political satirists and dystopian novelists. This edition of Orwell's seminal novel is introduced by Professor Peter Davidson. ...Show more
$18.99
AUD
Category: Classics | Reading Level: very good
Ray Bradbury's internationally acclaimed novel Fahrenheit 451 is a masterwork of twentieth-century literature set in a bleak, dystopian future. Guy Montag is a fireman. In his world, where television rules and literature is on the brink of extinction, firemen start fires rather than put them out. His jo b is to destroy the most illegal of commodities, the printed book, along with the houses in which they are hidden. Montag never questions the destruction and ruin his actions produce, returning each day to his bland life and wife, Mildred, who spends all day with her television "family." But then he meets an eccentric young neighbor, Clarisse, who introduces him to a past where people didn't live in fear and to a present where one sees the world through the ideas in books instead of the mindless chatter of television. When Mildred attempts suicide and Clarisse suddenly disappears, Montag begins to question everything he has ever known. He starts hiding books in his home, and when his pilfering is discovered, the fireman has to run for his life. ...Show more
$12.99
AUD
Category: Classics | Series: Popular Penguins
Moral allegory and spiritual autobiography, The Little Prince is the most translated book in the French language. With a timeless charm it tells the story of a little boy who leaves the safety of his own tiny planet to travel the universe, learning the vagaries of adult behaviour through a series of ext raordinary encounters. His personal odyssey culminates in a voyage to Earth and further adventures. ...Show more
$14.99
AUD
Category: Classics
"Spectacular...An absorbing and distinguished work...The House of the Spirits with its all-informing, generous, and humane sensibility, is a unique achievement, both personal witness and possible allegory of the past, present, and future of Latin America." --The New York Times Book Review The House of the Spirits, the unforgettable first novel that established Isabel Allende as one of the world's most gifted storytellers, brings to life the triumphs and tragedies of three generations of the Trueba family. The patriarch Esteban is a volatile, proud man whose voracious pursuit of political power is tempered only by his love for his delicate wife Clara, a woman with a mystical connection to the spirit world. When their daughter Blanca embarks on a forbidden love affair in defiance of her implacable father, the result is an unexpected gift to Esteban: his adored granddaughter Alba, a beautiful and strong-willed child who will lead her family and her country into a revolutionary future. One of the most important novels of the twentieth century, The House of the Spirits is an enthralling epic that spans decades and lives, weaving the personal and the political into a universal story of love, magic, and fate. ...Show more
$14.99
AUD
Category: Classics | Series: Vintage Classics Ser.
The complete short stories of the 20th century's greatest visionary 'Kafka is important to us because his predicament is the predicament of modern man' W. H. Auden This volume contains all of Kafka's shorter fiction, from fragments, parables and sketches to longer tales. Together they reveal the bread th of Kafka's literary vision and the extraordinary imaginative depth of his thought. Some are well known, others are mere jottings, observations of daily life, given artistic form through Kafka's unique perception of the world. ...Show more
$14.99
AUD
Category: Classics | Series: James Bond 007
'Surround yourself with human beings, my dear James. They are easier to fight for than principles.' In "Casino Royale", the first of Fleming's 007 adventures, a game of cards is James Bond's only chance to bring down the desperate SMERSH agent Le Chiffre. But Bond soon discovers that there is far more a t stake than money. ...Show more
$99.99
AUD
Category: Classics | Series: Word Cloud Classics Ser.
Discover the world of classic literature   Discover new realms of thought and fantasy in this exclusively selected boxed set Four special-edition Word Cloud Classics are included: The Wizard of Oz, The Wind in the Willows and Other Stories, Hans Christian Andersen Tales, and Aesop's Fables. Readers w ill be proud to display these works on their bookshelf when not reading folktales and detecting morals set forth by our ancestors--and the hot-air balloon cruising across the spines is sure to provoke many an interesting conversation. ...Show more
$14.99
AUD
Category: Classics | Series: Vintage Classics Ser.
Crime and punishment is probably Dostoevsky's most read and known novel and one of the most famous literary works of all time. Published in installments in 1866 in the journal «Russkij vestnik» («The Russian Messenger»), it is the story of Rodion Romanovich Raskolnikov, which the author describes in a l etter to the editor: "A young man, expelled from university , of a petty bourgeois family, very poor, decides to suddenly emerge from his sad situation. Raskolnikov divides men into two species: the great men, the" Napoleon ", Which is allowed to live and act above the moral law and to which, in the name of their greatness and the benefit that humanity draws from their existence," everything is allowed "; the common people, the "lice", which must instead be subject to laws and common sense, and against which the Napoleons have the right to life and death. ...Show more
$19.99
AUD
Category: Classics
A book which speaks directly to the confusions and agonies of existence, detailing a personal, philosophical odyssey.
The Idiot
by Henry Carlisle (Translator); Fyodor Dostoevsky
$7.99
AUD
Category: Classics | Series: Classics Library
In The Idiot, a saintly man, Prince Myshkin, is thrust into the heart of a society more concerned with wealth, power, and sexual conquest than the ideals of Christianity. Myshkin soon finds himself at the center of a violent love triangle in which a notorious woman and a beautiful young girl become riva ls for his affections. Extortion, scandal, and murder follow, testing the wreckage left by human misery to find "man in man." The Idiot is a quintessentially Russian novel, one that penetrates the complex psyche of the Russian people. "They call me a psychologist," wrote Dostoevsky. "That is not true. I'm only a realist in the higher sense; that is, I portray all the depths of the human soul." ...Show more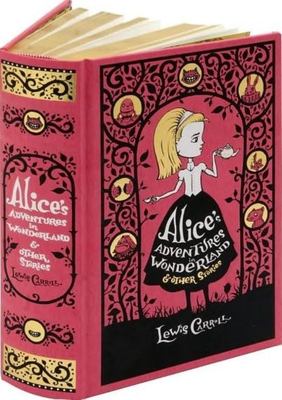 $49.99
AUD
Category: Classics | Series: Barnes and Noble Leatherbound Classic Collection
Scurry down the rabbit hole and step through the looking glass with this luxurious compilation of works from Lewis Carroll. Don't be late--it's a very important date   Witty, whimsical, and often nonsensical, the fiction of Lewis Carroll has been popular with both children and adults for over 150 year s. Canterbury Classics's Alice's Adventures in Wonderland takes readers on a trip down the rabbit hole in Alice's Adventures in Wonderland, where height is dynamic, animals talk, and the best solutions to drying off are a dry lecture on William the Conqueror and a Caucus Race in which everyone runs in circles and there is no clear winner.     Through the Looking Glass begins the adventure anew when Alice steps through a mirror into another magical world where she can instantly be made queen if she can only get to the other side of the colossal chessboard.     Complete with the original drawings by John Tenniel, this luxurious leather-bound edition is a steal for new readers and Carroll fans alike.   ...Show more