$29.99
AUD
Category: Chat10Looks3 Recommendations | Reading Level: 3 Biography
ARIA Award-winning singer and actress Clare Bowditch confronts her inner critic in this no-holds-barred memoir. This is the story I promised myself, aged twenty-one, that I would one day be brave enough - and well enough - to write. Clare Bowditch has always had a knack for telling stories. Through her music and performing, this beloved Australian artist has touched hundreds of thousands of lives. But what of the stories she used to tell herself? That 'real life' only begins once you're thin or beautiful, that good things only happen to other people.YOUR OWN KIND OF GIRL reveals a childhood punctuated by grief, anxiety and compulsion, and tells how these forces shaped Clare's life for better and for worse. This is a heartbreaking, wise and at times playful memoir. Clare's own story told raw and as it happened. A reminder that even on the darkest of nights, victory is closer than it seems.With startling candour, Clare lays bare her truth in the hope that doing so will inspire anyone who's ever done battle with their inner critic. This is the work of a woman who has found her true power - and wants to pass it on. Happiness, we discover, is only possible when we take charge of the stories we tell ourselves. ...Show more
$32.99
AUD
Category: Australian
Angela Williams' incredible memoir of going to prison, getting out and getting clean, then the beauacratic bungle that sent her back to prison again.
Teacher
by Gabbie Stroud
$29.99
AUD
Category: Australian
A powerful and moving memoir about how the current system is letting down children and parents, and breaking dedicated teachers. Devastating, heart-breaking, enraging.  'Gabbie's story needs to be shouted from the rooftops. She very eloquently shows us why and how education needs to change... Teacher m ade me laugh and cry. I loved it!' - Kathy Margolis, former teacher and activist. Watching children learn is a beautiful and extraordinary experience. Their bodies transform, reflecting inner changes. Teeth fall out. Knees scab. Freckles multiply. Throughout the year they grow in endless ways and I can almost see their self-esteem rising, their confidence soaring, their small bodies now empowered. Given wings. They fall in love with learning. It is a kind of magic, a kind of loving, a kind of art. It is teaching. Just teaching. Just what I do. What I did. Past tense. In 2014, Gabrielle Stroud was a very dedicated teacher with over a decade of experience. Months later, she resigned in frustration and despair when she realised that the Naplan-test education model was stopping her from doing the very thing she was best at: teaching individual children according to their needs and talents. Her ground-breaking essay 'Teaching Australia' in the Feb 2016 Griffith Review outlined her experiences and provoked a huge response from former and current teachers around the world. That essay lifted the lid on a scandal that is yet to properly break - that our education system is unfair to our children and destroying their teachers. In a powerful memoir inspired by her original essay, Gabrielle tells the full story: how she came to teaching, what makes a great teacher, what our kids need from their teachers, and what it was that finally broke her. A brilliant and heart-breaking memoir that cuts to the heart of a vital matter of national importance. ...Show more
$29.99
AUD
Category: Chat10Looks3 Recommendations | Reading Level: 3 Biography
Leigh Sales: "An incredible insight into the thinking and writing processes of one of the greatest writers in Australian history." Helen Garner has kept a diary for almost all her life. But until now, those exercise books filled with her thoughts, observations, frustrations and joys have been locked awa y, out of bounds, in a laundry cupboard. Finally, Garner has opened her diaries and invited readers into the world behind her novels and works of non-fiction. Recorded with frankness, humour and steel-sharp wit, these accounts of her everyday life provide an intimate insight into the work of one of Australia's greatest living writers. Yellow Notebook, Diaries Volume One, in this elegant hardback edition, spans about a decade beginning in the late 1970s just after the publication of her first novel, Monkey Grip. It will delight Garner fans and those new to her work alike.     ...Show more
$32.99
AUD
Category: Australian
'Ever since I was thirteen years old, all I wanted to do was perform. It was an unusual dream for a kid from the Northern Territory to have ... what I wanted for my life was a world away from what people knew and loved about the "Top End". Even though I've moved south to become an actor, the Territory h as never left me. It's the place I go to when I want to feel whole again.' From Kakadu to Cannes, Miranda Tapsell is one of Australia's favourite actors. A proud Larrikia woman, she built a stellar career on stage, and shot to fame in The Sapphires and then in Love Child and Doctor, Doctor. Growing up, Miranda often looked for faces like hers on our screens. There weren't many. And too often there was a negative narrative around Indigenous lives, and Aboriginal women especially. Now an award-winning actor, she decided to change things herself. Combining her love of romantic comedies with her love of Darwin, the Tiwi Islands and the Top End, Miranda wrote, produced and starred in the box office hit Top End Wedding. But who the hell co-writes, produces and acts in a film about a wedding in the same year they're having their own? Miranda Tapsell does! In this engaging and thought-provoking memoir, Top End Girl, Miranda shares the path she took to create a moving film about re-connection to family and culture at the same time as she was planning her own wedding. And, like all good story-tellers, she holds a mirror up to the society we live in to show the prejudice that too often surfaces. Miranda knows that the key to change is to understand and through the power of storytelling she is changing attitudes and expectations to unite us all. ...Show more
$29.99
AUD
Category: Australian | Reading Level: 3 Biography
It's been almost fifty years since a teenage David Gulpilil illuminated screens worldwide with his breakout role in Walkabout. It was the first time we'd seen an Aboriginal cast in a significant role and only four years after Holt's referendum to alter the constitution and give Aboriginal people citizen ship and, subsequently, the right to vote. Gulpilil quickly became the face of the Indigenous world to white Australian audiences. Charisma. Good looks. A competent, strong, mysterious man starring in films ranging from Rabbit-Proof Fence to Crocodile Dundee.But what has marked Gulpilil, despite his fame and popularity, is the feeling that he's been forever stuck between two worlds: a Yolngu man, a hunter, a tracker, who grew up in the bush in Arnhem Land outside any white influence; and a movie star flitting from sets to festivals. Able to exist in both worlds, but never truly home. From the author of the bestselling Wednesdays with Bob, Derek Reilly attempts to encapsulate the most beguiling and unconventional of Australian entertainers, observing Gulpilil's own attempt to find a place in the world. With interviews from icons and friends - such as Jack Thompson, Paul Hogan, Craig Ruddy, George Gittoes, Gary Sweet and Damon Gameau - this unriddles a famous enigma at last. ...Show more
$29.95
AUD
Category: Australian
Asian-Australians have often been written about by outsiders, as outsiders. In this collection, compiled by award-winning author Alice Pung, they tell their own stories with verve, courage and a large dose of humour. These are not predictable tales of food, festivals and traditional dress. The food is h ere in all its steaming glory - but listen more closely to the dinner-table chatter and you might be surprised by what you hear. Here are tales of leaving home, falling in love, coming out and finding one's feet. A young Cindy Pan vows to win every single category of Nobel Prize. Tony Ayres blows a kiss to a skinhead and lives to tell the tale. Benjamin Law has a close encounter with some angry Australian fauna, and Kylie Kwong makes a moving pilgrimage to her great-grandfather's Chinese village. Here are well-known authors and exciting new voices, spanning several generations and drawn from all over Australia. In sharing their stories, they show us what it is really like to grow up Asian, and Australian. Contributors include: Shaun Tan, Jason Yat-Sen Li, John So, Annette Shun Wah, Quan Yeomans, Jenny Kee, Anh Do, Khoa Do, Caroline Tran and many more. ...Show more
$22.99
AUD
Category: Australian
Featuring new material. 'I was prime minister for three years and three days.Three years and three days of resilience.Three years and three days of changing the nation.Three years and three days for you to judge.' On Wednesday 23 June 2010, with the government in turmoil, Julia Gillard asked Prime Mini ster Kevin Rudd for a leadership ballot. The next day, Julia Gillard became Australia's 27th prime minister, and our first female leader. Australia was alive to the historic possibilities. Here was a new approach for a new time. It was to last three extraordinary years. This is Julia Gillard's chronicle of that turbulent time, a strikingly candid self-portrait of a political leader seeking to realise her ideals. It is her story of what it was like - in the face of government in-fighting and often hostile media - to manage a hung parliament, build a diverse and robust economy, create an equitable and world-class education system, ensure a dignified future for Australians with disabilities, all while attending to our international obligations and building strategic alliances for our future. This is a politician driven by a sense of purpose - from campus days with the Australian Union of Students, to a career in the law, to her often gritty, occasionally glittering rise up the ranks of the Australian Labor Party. Refreshingly honest, peppered with a wry humour and personal insights, Julia Gillard does not shy away from her mistakes, admitting freely to errors, misjudgements, and policy failures as well as detailing her political successes. In the immediate aftermath of the leadership, here is her account, of what was hidden behind the resilience and dignified courage Gillard showed as prime minister, her view of the vicious hate campaigns directed against her, and a reflection on what it means - and what it takes - to be a woman leader in contemporary politics. With new material and fresh insights, Julia Gillard reveals what life was really like as Australia's first female prime minister. ...Show more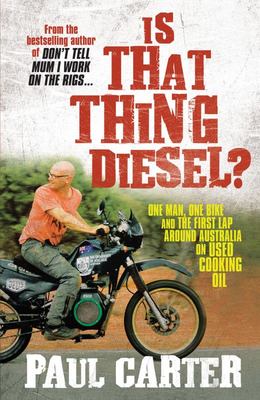 $22.99
AUD
Category: Australian
At forty years old, a successful writer, husband and father, no longer toiling on offshore drilling rigs, was Paul Carter happily nestled in the cotton wool of suburban life enjoying the fruits of his labour? Was he f**k! With his manic life left far behind and the perfect opportunity to take it easy st retched before him what else would a middle-aged, bike-obsessed, man want? Yes, that's right, he'd want to be the first guy to ride around Australia on an underpowered experimental motorcycle that runs on used cooking oil, wouldn't he? Preferably without getting hit by a semi-trailer full of bridge parts. Is he out of his mind? Quite possibly. Embark on a rollickingly, downright dangerous and often unhinged quest that starts on an environmentally friendly motorcycle built on a shoestring budget by students, and ends with a plan to break the motorcycle land speed record for biofuel. Carter is back to his old balls-to-the-wall style of writing, prepare to laugh out loud. ...Show more
$22.99
AUD
Category: Feel Good Non-fiction
A take no prisoners' approach to life has seen Paul Carter heading to some of the world's most remote, wild and dangerous places as a contractor in the oil business. Amazingly, he's survived (so far) to tell these stories from the edge of civilization, and reason.