$35.00
AUD
Category: Animals & Natural World
Discover the world of the dinosaurs using your three-colour lens with this eye-popping prehistoric adventure, the fifth in the best-selling Illumi series from design duo Carnovsky.
$35.00
AUD
Category: Puzzles | Series: Magma for Laurence King Ser.
This family-friendly game is packed with weird, wonderful and terrifying creatures for hours of bingo fun. Includes such favourites as the great white shark, box jellyfish, Tasmanian devil and Australian death adder, as well as lesser known animals like the Australian paralysis tick and the flamboyant c uttlefish. Boasting 64 of Australia's most deadly, beautiful and just downright surprising species, this bingo game is filled with fun facts and glorious illustrations that are guaranteed to delight kids and adults alike. Mark each species off on your card as it's called and be the first to shout BINGO!   ...Show more
$14.99
AUD
Category: Biographies & Memoir | Series: Aussie Stem Star Ser.
Age range 9 to 14Georgia Ward-Fear is most famous for her research into shifting ecological paradigms and animal behaviour. She is also an adventurer, travelling extensively in her sea kayak. Georgia Ward-Fear's conservation journey has seen her travel the world, empower young girls to become environmen tal leaders, and carry out trailblazing work to save native animals from the threat of cane toads.An inspiring story of an adventurous spirit whose love of the natural world has made her a STEM superstar.    ...Show more
$19.99
AUD
Category: Encycopaedias, Science, Maths & reference materials
A bumper book of maths fun stuffed with things to draw, puzzle, invent, order, unscramble, code, decode for kids aged 7+ years from Australia's best known maths man. There's magic in maths - if you know where to look...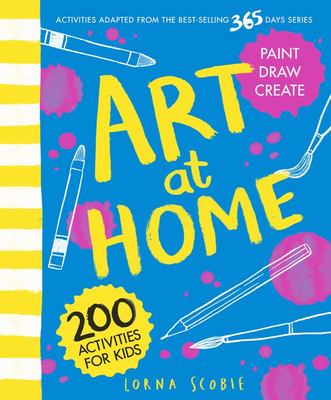 $19.99
AUD
Category: Art, music, language, craft and humanities
Art At Home is the wonderful new activity book by best-selling illustrator Lorna Scobie, filled with 200 engaging art activities for children. This creative ideas book features carefully adapted activities from her brilliant 365 series, in a larger format, perfect for kids aged 5-10 and is a great way t o keep your child busy at home, as well as providing a calm and imaginative way to spend time. Activities are varied, ranging from relaxing colouring and pattern-drawing tasks, to thought-provoking challenges such as designing a superhero or sketching a self-portrait. There are no rules in this book, but plenty of encouragement to explore, play and develop artistic skills. You will end up with a book your child feels proud of, as well as plenty of inspiration for further artistic projects. With simple instructions plus helpful prompts and ideas to explore different materials and techniques, Art at Home is the perfect way to get your child thinking creatively and to stimulate their imagination. ...Show more
$29.99
AUD
Category: Activity/Novelty | Series: Pierre the Maze Detective
The waterways and streets of Canal City are brimming with people as crowds gather on the eve of the Maze Egg carnival. But the legendary Maze Egg is gone, and Pierre and Carmen find themselves on the case. Can you help them return the Maze Egg to its rightful home before it's too late? Make your way thr ough each beautifully-illustrated maze, finding the hidden objects that Pierre and Carmen need to solve the mystery and save the day   ...Show more
$24.99
AUD
Category: Activity/Novelty
Join Wally and his friends as they set sail on a ghostly galleon, wander through treacherous lands and seek shelter in a haunted castle in this spooky search-and-find adventure. With six scenes to send shivers down your spine and extra activities on every page – it's frightful! Includes a glow-in-the-da rk spotlight-searcher wand to light up the scenes. No batteries necessary. All light-up magic is designed from paper and extra spotlight-searcher wands are available to print online.   ...Show more
Poo Bingo
by Aidan Onn; Claudia Boldt (Illustrator)
$29.99
AUD
Category: Puzzles | Series: Magma for Laurence King Ser.
Discover all you ever wanted to know about poo - and more - with Poo Bingo! Featuring 24 animals and their uniquely shaped poos, this is the bingo game to end all bingo games. Kids will delight in discovering that wombats poo in cubes and that penguins poo in squirts that are different colours depending on what they've eaten! Be the first to fill your game card with animals and poos to win BINGO! ...Show more
$14.99
AUD
Category: Biographies & Memoir | Series: Aussie Stem Star Ser.
Age range 9 to 14Fiona Wood is a plastic surgeon whose expertise in burns treatment came to the world's attention in 2002 in the wake of the Bali bombings. From defending the weak and fixing the broken to fighting for her chance to study medicine, the story of plastic surgeon and spray-on skin inventor Fiona Wood shows us the value of dreams, hard work, and having the courage to do what is right.'She revolutionised treatment and outcomes for burns patients around the world – and she continues to work tirelessly in this area, striving for a better future. I think everyone she meets comes away affected and uplifted by her spirit, stamina, generosity and courage. It was an extraordinary honour to work with Fiona to tell her story.' — Cristy Burne ...Show more
$32.99
AUD
Category: Animals & Natural World
Dangerous animals get a bad rap, but this beautifully illustrated encyclopaedia helps us appreciate the incredible features of some of our more hair-raising animal species. With more than sixty of the most deadly and dangerous animals from across the world to explore, every page of this beautifully illu strated volume is more eye-opening than the last. You will learn interesting facts about these fascinating species, (many of which you won't have even known were deadly) such as how they have adapted to survive and whether we should be threatened by these animals or appreciate them for their incredible features. Children and adults alike will pore over the breathtaking scientific illustrations of unusual animals from the Cone Shell to the Wolverine and the Irukandji Jellyfish to the Slow Loris, debating their relative dangerous features, learning about science and nature along the way.  This gorgeous hardcover book is illustrated in exquisite detail by award-winning author and illustrator, Sami Bayly. A brilliant companion to The Illustrated Encyclopaedia of Ugly Animals. ...Show more
$19.99
AUD
Category: Resilience, confidence and wellbeing
From the bestselling, award-winning author of You Are Awesome comes the much-anticipated follow-up, Dare to Be You. What would you dare to try if you stopped worrying about fitting in? If you're the kind of person who thinks: I don't like standing out from the crowd ... I wish I could be more like the cool kids ... There's no point trying to change things ... then this book is for you. Because guess what? There's no such thing as normal. Drawing examples from sport, science and even business, Dare to Be You empowers young readers to follow their own path, love what makes them different and question the world around them. With You Are Awesome's trademark mix of hilarious text, stylish illustration, personal insights and inspiring real-life examples, including Greta Thunberg and Malala Yousafzai, Matthew Syed introduces children to the power of diverse thinking. When you stop doubting yourself, embrace change and let your kindness loose, you become your own action hero. This groundbreaking, practical and positive book will help kids develop the inner confidence to grow into happy adults who know - and, more importantly, LIKE - themselves. Praise for You Are Awesome, children's book of the year 2019 and Sunday Times no. 1 bestseller: "A very funny and inspiring read! Brilliantly practical with a wide variety of examples that make it relevant for both boys and girls (and adults)!" - Amazon Customer "Genuinely funny and engaging ... It's a must read." - Amazon Customer ...Show more
$19.99
AUD
Category: Resilience, confidence and wellbeing
This positive and empowering guide, by bestselling mindset author Matthew Syed, will help boys and girls build resilience, fulfil their potential and become successful, happy, awesome adults. I'm no good at sport ... I can't do maths ... I really struggle with exams ... Sound familiar? If you believe you can't do something, the chances are you won't try. But what if you really could get better at maths, or sport or exams? In fact, what if you could excel at anything you put your mind to? You Are Awesome can help you do just that, inspiring and empowering young readers to find the confidence to realise their potential. The first children's book from Times journalist, two-time Olympian and best-selling mindset author Matthew Syed, it uses examples of successful people from Mozart to Serena Williams to demonstrate that success really is earned rather than given, and that talent can be acquired. With hard work and determination, practice and self-belief, and, most importantly, a Growth Mindset, there's no reason why anyone can't achieve anything. Practical, insightful and positive, this is the book to help children build resilience, embrace their mistakes and grow into successful, happy adults. Also available: The You Are Awesome Journal. Whether setting out your goals, planning the best practice ever, keeping calm with breathing exercises or making paper aeroplanes to understand marginal gains, you'll love the brilliant activities in The You Are Awesome Journal - it's the perfect companion to You Are Awesome! ...Show more